2011-12 UCI Track World Cup Round 3
Event: 12-15 January 2012
Location: Beijing, China
Report: Eddie Allen

---
A young Great Britain team pursuit squad of Mark Christian, Sam Harrison, Joe Kelly and Simon Yates qualified fourth fastest to claim a place in the bronze medal against New Zealand.
Above: The men's endurance squad warm up on the rollers.

The opening day at Beijing saw the qualification rounds for the women's and men's team pursuit, with Great Britain represented in the men's event. 14th to qualify, the Great Britain team posted a time of 4:08.176, just under four seconds adrift of the New Zealand squad of Gough, Karwowski, Latham and Simpson. The Russian team of Evgeny and Ivan Kovalev, Alexey Markov and Alexander Serov posted a 4:00:488 to qualify fastest, ahead of the Australian team of O'Shea, Edmondson, Freiberg and Mulhern, who will ride off for gold.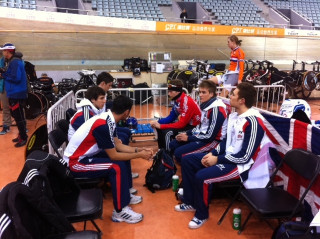 Above: Coach Chris Newton (front left) gives a last minute team talk prior to Christian, Harrison, Kelly and Yates' qualifying ride.
The result represents a great achievement for coach Chris Newton's developing squad, who have been dispatched to Beijing to gain valuable world cup experience.
The final will take place on the afternoon session of Friday 13 Jan.
Results
World Record 3:53.314 GBR Great Britain Beijing (CHN) 18 AUG 2008
1 RVL RUSVELO 4:00.488
KOVALEV Evgeny
KOVALEV Ivan
MARKOV Alexey
SEROV Alexander
2 AUS Australia 4:02.585
O'SHEA Glenn
EDMONDSON Alexander
FREIBERG Michael
MULHERN Mitchell
3 NZL New Zealand 4:04.247
GOUGH Wes
KARWOWSKI Cameron Joseph
LATHAM Peter
SIMPSON Myron
4 GBR Great Britain 4:08.176
CHRISTIAN Mark
HARRISON Samuel
KELLY Joseph
YATES Simon
5 KOR Korea 4:09.091
6 UKR Ukraine 4:09.374
7 GER Germany 4:09.512
8 NED Netherlands 4:09.554
9 LOK LOKOSPHINX 4:10.605
10 BEL Belgium 4:10.642