Follow britishcycling.org.uk on
Team England Announce Riders for Games

Story posted August 26 | Commonwealth Games England Press Release | Home Page for Coverage
England's young cyclists welcome the chance to shine in Delhi
The England Team going to the Commonwealth Games in Delhi will feature 20 cyclists, consisting of England's best young track riders, established road racers and a multiple Paralympic gold medallist. The male track team will include riders from British Cycling's Olympic Academy such as talented young sprinters and former Junior World Champions, David Daniell and Peter Mitchell, who will be looking forward to their first Games experience.

Competing in the Women's track team will be three-time Junior World Championship medallist Laura Trott and multiple World and Paralympic Champion Sarah Storey who becomes a first Paralympian to race for England at the Commonwealth Games. England will go into the road events with a strong and experienced road team well suited to the Delhi course. The team will see young world class stars like Lizzie Armitstead, Alex Dowsett and Ben Swift lining up with experienced riders such as Jeremy Hunt, Russell Downing and Olympic medallist Emma Pooley.

Head Coach Shane Sutton said: "We have selected a young track team for the Commonwealth Games to give England's rising cycling stars an opportunity to experience a large scale multi-event competition as they're preparing for their first Olympics. With a number of our top performers competing on the road, we are also in contention for medals in these events."

Craig Hunter, England's Chef de Mission for Delhi said: "We are pleased to welcome into the England team a cycling squad which blends experience with youth and we wish them every success in their final preparations and in Delhi for the Games".
Multi-paralympic champion Sarah Storey said of her selection "I'm so excited to be selected for Team England, it's such an amazing opportunity for me to race the World's best pursuiters and I can't wait to get stuck in! Being shortlisted for the Road TT as well is a huge honour. I've been working very hard on my road skills this year and so to step up and be in the mix for this event too is a testament to the hard work I've put in and also the hard work put in by my team Horizon Fitness to get me up to this level. I can't thank everyone enough. I'm very excited to race the British Time Trial Championships and try and get selected for that too."
Juniors stepping up a level to represent England -- by Larry Hickmott
A quick look at the England track squad and many of the riders have come from the Great Britain Olympic Academy which has already given these athletes experience at World Cup level where the Women especially have had a lot of success against the World's best.

In the England team though are also two juniors who have World titles to their names after the recent championships in Italy. Simon Yates and Laura Trott have been selected and with good reason. Competition at the Junior level is such that these riders are already ready to compete against senior riders on the track and are sure to do well.

Simon Yates said on the day the selections were announced, "I had no idea I was going to get selected, I didn't even know I was on the shortlist until a few days ago! I'm really pleased to get selected as it's such a big event and now I'm going to it. It will be a new experience and I'll just have to see how I do. It's pretty good being able to represent England!"


Simon isn't as much worried about racing the distances the Seniors ride but rather the strength of the other riders especially the Aussies who he expects will have a strong team. He knows these riders will have a lot more experience than he does but because he's going to be in the team with the likes of Ben Swift, that will inspire him to do his very best.

It will, says Simon, be a great learning experience and one he didn't expect to be getting at the start of the year. "I was hoping to get a ride at the Junior Worlds and then do well at the Nationals - they were my goals, so to get selected for the Commonwealth Games and win a World title has been fantastic."

Laura Trott. Also excited at being selected and all smiles in the track centre at Newport was three time medallist at the recent Junior World Championships, Laura Trott. The young Hertfordshire rider has been racing on two wheels for a decade already and she's still under 19.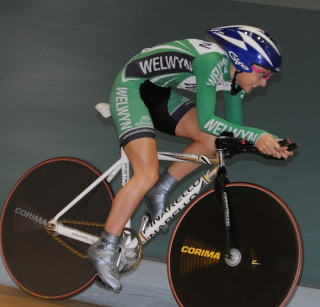 "Having been selected for them, it is almost like I can put the World champs behind me now, put the title away because no-one can take that away from me and now focus on the bigger goals like being a professional. It is such a big event the Commonwealth Games and I feel real lucky to be going."

Asked what she is looking forward to most, Laura replied "gaining the experience is what I am looking to most. I spoke to Paul Manning (Olympic Champion) about it and he said I won't have any pressure but they want to see how well I go at full distance. So it is about gaining some experience racing against the best riders."

After a hectic month with a big block of track training preceding the Junior Worlds and then straight into the British Junior Track Championships, Laura says she'll be having five days off and after that, should be fine and be really motivated and ready for the challenge of the Commonwealth Games. It will also help, she says, having her sister Emma in the team as well, some one she is very close to. "Doing the road races with her, she always helps me and having her there, makes me feel more relaxed" Laura explained.
Emma and Laura are the first sisters to be selected in an England Cycling team and follow in the footsteps of the Swinnerton sisters, Catherine and Margaret) who represented Great Britain in 1979, 1981 and 1982.
Finally, Laura realises the Commonwealth Games are a stepping stone for athletes and admits she doesn't feel the 2012 Olympics are out of the question either and is hoping to ride the Omnium there. With the progress she and Simon have made, there is little doubt these young riders are going places.
England Cycling Team – Commonwealth Games Delhi 2010
Name, DOB, Place of Birth, Current Residence

MEN'S TRACK TEAM
George Atkins 18.08.1991, Leicester, Pistoia in Italy
David Daniell 23.12.1989, Middlesbrough, Fallowfield in Manchester
Pete Mitchell 12.01.1990, Edgware in London, Fallowfield in Manchester
Erick Rowsell 29.07.1990, Sutton in Surrey, Sutton
Ben Swift 05.11.1987, Rotherham, Sheffield
Simon Yates 07.08.1992, Bury in Lancashire, Bury

WOMEN'S TRACK TEAM
Anna Blyth 15.05.1988, Leeds, Leeds
Katie Colclough 20.01.1990, Grantham in Lincolnshire, Grantham
Lucy Martin 05.05.1990, Whiston in Cheshire, Widnes in Cheshire
Sarah Storey 26.10.1977, Disley in Manchester, Stockport in Cheshire
Laura Trott 24.04.92, Harlow in Essex, Cheshunt in Hertfordshire

MEN'S ROAD TEAM
Russell Downing 23.08.1978, Rotherham in South Yorkshire, Rotherham
Alex Dowsett, 03.10.1988, Chelmsford in Essex, Chelmsford
Chris Froome, 20.05.1985, Nairobi in Kenya, Pistoia in Italy
Jeremy Hunt, 12.03.1974, Macklin in Canada, Dartington in Devon
Ian Stannard, 25.05.1987, Chelmsford in Essex, Milton Keynes
Ben Swift, 05.11.1987, Rotherham in South Yorkshire, Sheffield

WOMEN'S ROAD TEAM
Lizzie Armitstead, 18.12.1988, Leeds, Herselt in Belgium
Katie Colclough, 20.01.1990, Grantham in Lincolnshire, Grantham
Sharon Laws, 07.07.1974, Kenya, Cheltenham in Gloucestershire
Lucy Martin 05.05.1990, Whiston in Cheshire, Widnes in Cheshire
Emma Pooley, 03.10.1982, London, Norwich/ Zurich in Switzerland
Emma Trott, 24.12.1989, Welwyn Garden City in Hertfordshire, Cheshunt in Hertfordshire
England's cycling team has a strong track record in the Commonwealth Games, having won 11 medals, including four golds, in Melbourne in 2006 in track and mountain biking.

The 2010 Commonwealth Games take place in Delhi, India, from 3 to 14 October 2010. They will feature 17 sports - archery, aquatics (swimming, synchronised swimming & diving), athletics, badminton, boxing, cycling, gymnastics, hockey, lawn bowls, netball, rugby 7s, shooting, squash, table tennis, tennis, weightlifting and wrestling. With the 2012 Olympic Games in London and the 2014 Commonwealth Games in Glasgow, Commonwealth Games England is entering a breath-taking four years of sport.

Commonwealth Games England (GCE) is the organisation responsible for selecting and organising England's team at the Commonwealth Games. England finished second to Australia on the medal table at the Melbourne 2006 Commonwealth Games with 36 golds, 40 silvers and 34 bronzes.

Sport England is responsible for building the foundations of sporting success, by creating a world-leading community sport system of clubs, coaches, facilities and volunteers. Their focus is growing and sustaining the numbers of people taking part in sport and improving talent development to help more people excel.

CGE's website at www.weareengland.org