Tokyo Olympic medallists Beth Shriever and Kye Whyte headline the opening rounds of the UCI BMX Racing World Cup in Glasgow this weekend – the first international BMX event to take place in the city since the 2018 European Championships. Here's everything you need to know, including how you can watch from home.
Representing the Great Britain Cycling Team
Reigning Olympic and world champion Beth Shriever will be a hot favourite in the elite women's races for the Great Britain Cycling Team, and will be looking to continue her sensational recent form in her first home international event since her historic performance at the Tokyo Games.
Olympic silver medallist Kye Whyte has been selected in the men's elite races and has fond memories of the track from his European silver medal in 2018.
Whyte will be joined by Ross Cullen, who recently took third place in the second round of the UEC BMX European Cup in Verona, Paddy Sharrock and Quillan Isidore. Young rider Ryan Martin will compete in the under-23 category.
The full Great Britain Cycling Team squad can be found here.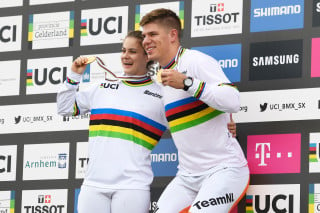 Around the world
All eyes will be on the current men's Olympic and world champion Niek Kimmann, but he will face tough competition against his Swiss training partner and 2021 World Cup winner Simon Marquart.
Kimmann's Dutch teammates, world silver and bronze medallists Judy Baauw and Laura Smulders, will be challenging Shriever for the top spot in the women's category, with Smulders coming into Glasgow on a three-win streak from the end of last season.
Six-time world and two-time Olympic champion Mariana Pajon – the "Queen of BMX" – will also be competing in the women's event and will be hoping to retain her World Cup title this season.
A full list of competitors from across the nations can be found here.
How to watch
Coverage for both days starts at 14:45 on the Olympic Channel, and we'll be bringing race updates through both full days on Twitter @BritishCycling, helping you stay close to the action.
A limited number of tickets for both days remain on sale here, priced at £15 for adults and £10 for kids.
Get social
Whether you're in Glasgow or watching at home, join the conversation on social through Facebook, Twitter and Instagram, where we'll be sharing exclusive content and behind the scenes footage all weekend.
Don't forget to send us your highlights and photos using the hashtag #BMXWorldCup, too!