Jolanda Neff led a clean sweep of the podium for Switzerland in the women's Olympic cross-country mountain bike race as Evie Richards of Great Britain secured an excellent seventh-place finish.
Richards, a 24-year-old from Malvern in Worcestershire, turned in a strong Olympic debut and was prominent in the early moves of the five-lap, 20.55km race, putting in a superb opening lap.
But nobody in the 38-rider field had a response for the 28-year-old Neff who won gold by a massive 1:11.
She broke clear with Pauline Ferrand Prevot on the opening lap but, after the French rider slipped on a climb, Neff pulled away alone.
Neff held a 19-second lead over second-placed Richards at the end of the first lap and steadily built her advantage over the remaining four laps.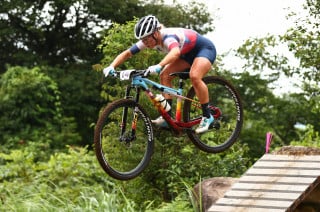 Eventually, team-mates Sina Frei and Linda Indergand broke clear of the chasing group and fought out the other podium places, with Frei taking silver by eight seconds from Indergand.
Overnight rain at the Izu MTB Course outside Tokyo left muddy conditions on the highly technical 3.85km circuit and Richards' strength and technique saw her well positioned towards the front of the riders chasing the medal group.
Richards remained in the front seven throughout the race and, along with France's Loana Lecomte, appeared to be gaining ground on the Swiss trio by the end of the third lap, standing just 36 seconds off the fight for silver and bronze.
But Frei and Indergand responded and stretched their advantage on the penultimate lap, although Neff was untouchable ahead.
Richards, a two-time under-23 world champion at cyclo-cross, still crossed the line wearing a massive smile, an indication of her sterling efforts, and eye-catching performance.