Manchester victor Kye Whyte continued his good start to the UCI BMX Supercross World Cup season as he, Kyle Evans and Bethany Shriever all reached the semi-finals in France.
Whyte prevailed on his home track earlier this season but couldn't replicate the feat on Saturday, as Saint-Quentin-En-Yvelines played host to the fifth round of a busy supercross season.
The national champion looked in good form in winning three rounds en route to the semi-final but a quick race made it almost impossible to overtake after a tough start.
That saw him finish in sixth place while European champion Evans suffered the same fate, he too unable to pass as the last Brits standing missed out on a place in the final.
The pair will both be back on Sunday for round six in France where Shriever will also take her place on the start line on the back of a Saturday semi-final.
She too had looked in good form in the early stages of the day, finishing in the top two of her first three places in an improvement on her form in Papendal last time out.
But a place in the final was agonisingly out of grasp, unable to recover from an early tangle despite battling hard in the latter stages of the race.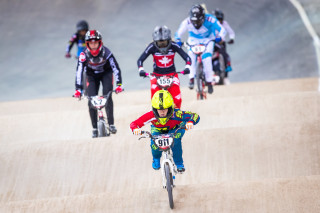 Elsewhere, the Great Britain Cycling Team were also represented in the shape of Quillan Isidore, unfortunate to miss out on the semi-finals after a crash in his quarter-final.
Isidore was not the main instigator of the slip-up but found himself with nowhere to go but the deck as his chances fell away, picking himself up from the final-corner crash to finish the race.
Meanwhile Paddy Sharrock, Ross Cullen and Ryan Martin all put in strong performances to escape the first round, but found their charges halted at the 1/16 stage.
Youngster Martin was particularly impressive as he hung on for fourth place in the first round, before a quick start saw him shut down early despite a valiant effort to claw back the difference next up.
Sharrock and Cullen, meanwhile, finished first and second respectively in their opening races, but weren't able to progress thereafter with tight races denting their rhythm.
The sixth round of the UCI BMX Supercross World Cup will take place on Sunday, with the UCI BMX World Championships next on the agenda in July.