Fresh from winning silver in the women's team pursuit final on Thursday evening, Katie Archibald was faced with an uphill battle in the women's omnium.
The Scot started off the first two rounds of the multiple race discipline, finishing 11th in the scratch race and eighth in the tempo race.
The Olympic gold medallist looked revitalised in the first race of the evening session, the elimination race. She would finish ninth after being caught on the inside with nowhere to go, but a promising show going into the final points race.
Looking to turn around a massive 35-point difference, Archibald went into the final round fighting an uphill battle. Shown respect from her rivals marking her endlessly in the closing stages, in a discipline that she usually thrives in and suffering a crash half-way through the race, Archibald would eventually finish seventh.
Post-race she said:
"I guess I messed up the first race, and there was a chance after that to reset, and then I messed up the second race and it wasn't a disaster.
"I thought If I went into the elimination race, I could get a good result there. It's a race where if you're willing to invest you just go hard and when I messed that up, I got pretty angry, and then I've just had a disastrous points race.
"You wonder what's gone wrong, I've won a world cup this season, three events straight and you come to a world championship and make mistake after mistake after mistake.
"I suppose as I usually go into the points race leading, I just have to defend, and I just sprint. I knew I had to change the way that I ride, and I didn't."
Brother, John Archibald was unable to replicate his national and world sea-level record performance from January at the HSBC UK | National Track Championships where he clocked a time of 4:09.584 in the men's individual pursuit.
That sea-level record was beaten in qualifying by Italy's Filippo Ganna clocking 4:07.456, two tenths off Ashton Lambie's (USA) world record set at altitude in Mexico in August 2018.
The HUUB-Wattbike rider was only able to manage a time of 4:14.730 in the BGZ Arena, Pruskow, five seconds off the pace of his record and seven seconds from Ganna.
A self-critical Archibald said after the race: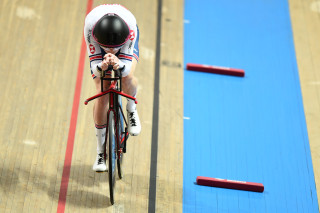 "I'm still struggling to put my finger on what went wrong, but from start to finish I could feel myself getting weaker the whole way through and there's no particular reason why.
"Obviously I performed three weeks ago to go quick and I felt ok in a couple of test sessions on the track here. I always get a bit nervous before a race and the drama does get to me a bit, but at the moment I can't explain why, but I did, I just cracked. So yeah, disappointing.
"Now I've got a bit of downtime, since October it's just been big targets of world cups, worlds and even the Europeans back in August, so it'll be quite nice to take a deep breath and go let's reset and make some progress, especially after a race like that."
Representing Great Britain in the men's points race, Mark Stewart fought a hard race to finish eight in the 160 lap, 40km race.
Stewart looked to be in contention for the win half way through the race, winning the sprint at the midway point after claiming his second lap gain of the race. This jumped Stewart into second place 80 laps in looking strong.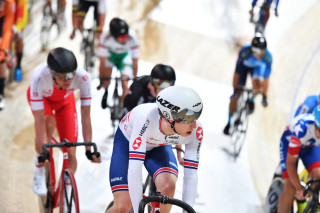 The remaining 80 laps would tell a different story. The Scottish-born rider tried desperately to defend his lead, however relentless attacks by Jan Willem Van Schip (The Netherlands) the eventual winner and Sebastian Mora (Spain) was too much for Stewart.
In the first session of the day, Joe Truman was the chosen representative of the sprint team. Despite posting a brilliant time of 1:01.545, Truman missed out on qualification to the finals in the evening by just four tenths of a second.