It was tandem perfection again for Great Britain on the final day of the Manchester Para-Cycling International as both pairs of World Champions claimed gold.
Neil Fachie and Matt Rotherham powered through to the finals, where they bested teammates James Ball and Pete Mitchell in their toughest test of the day. Sophie Thornhill and Helen Scott looked similarly dominant as they progressed through the competition eventually seeing off their Dutch rivals in two straight heats, to seal gold.
The team sprint saw Great Britain claim the two top steps on the podium, with Matthew Robertson stepping into the World and Paralympic winning line-up alongside Jon-Allan Butterworth and Jody Cundy.
In the C1-3 scratch race, it was a story of excellent teamwork from Ben Watson, Fin Graham and Matthew Robertson leading to an early lap take. As the race progressed it was Watson who made the pivotal move, battling hard over a number of laps to eventually re-join the bunch and claim a further lap. Watson took his first gold of the weekend, whilst Fin Graham added a bronze to his extensive collection.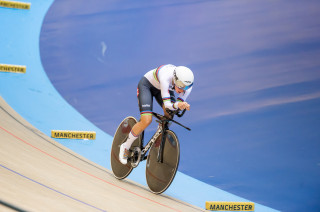 After yesterday's male pursuits, it was the turn of the female riders and World Champion Crystal Lane-Wright couldn't be stopped as she honoured the rainbow bands with a victory in the C5 race. Megan Giglia, also sporting a rainbow jersey, took home a bronze medal in the C3 pursuit. Denise Schindler won the C3 Pursuit in a new world record time, however without ratification it won't be acknowledged as an official record.
The final races of the Manchester Para-Cycling International were the men's C4-5 and women's C1-5 scratch races. Great Britain claimed silver medals in both races, with Will Bjergfelt narrowly missing out and Crystal Lane-Wright taking second behind the Dutch World Champion.
Results: