British Cycling has today announced a nine-strong team of riders who will represent the Great Britain Cycling Team at the UCI BMX World Championships, taking place in Baku, Azerbaijan, from 8- 9 June.
Reigning junior world champion Beth Shriever has made a seamless step up to elite level competition this year, winning her first world cup in Zolder earlier this month, and returns to represent Great Britain at the world championships. Shriever is joined by senior squad programme riders Kyle Evans and Quillan Isidore along with brothers Tre and Kye Whyte who will all contest the elite men's event.
Ross Cullen and Tian Isidore will line up for Great Britain in the junior men's event while Elissa Bradford and Libby Smith will compete in the junior women's.
Performance director Stephen Park said: "We've seen some promising signs from the BMX programme riders this season, with some good results at European and world cup level.
"Kyle took to the top step of the podium twice during the European Cup series, while his fourth-place finish at the world cup in Zolder has boosted him up to sixth place overall in the UCI rankings. Both Quillan and Kye have scored career best results in world cups this season, and we will be looking to all of the programme riders to build on their results at the world championships this year.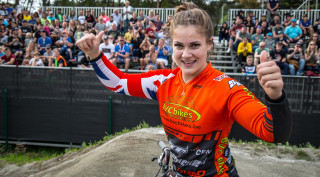 "Outside of the programme, it's been fantastic to watch Beth flourish and take a well-deserved victory at the fifth round of the world cup. We will offer her our support in Baku, and I'm looking forward to seeing how she gets on. Hopefully, she can take confidence from her result in Zolder and challenge for the podium again in Baku.
"Amongst the juniors, Ross has finished twice on the podium in the junior race at the European Cup and Elissa has made a final. With there being no junior event at world cup level, it will be good to see where all the junior riders we have selected are at against world class junior competition, both in terms of results and learnings to take forward."
Reigning junior world champion Beth Shriever said: "I'm thrilled to be able to represent my country again at the world championships. I'm pleased with how my season has gone so far but I'm not putting too much pressure on myself given that it's my first year as an elite rider. My recent world cup victory has given me confidence that I can be up there in the mix for a good result and I'm fully committed to giving it my all out in Baku."
Olympian Kyle Evans said: "The world championships is the main event on my racing calendar this year and all my training has been focused towards it, so I'm pleased to have made selection for the team. I've had a mixed year so far – I've been on the podium a few times during the European Cup series but I've also had results which haven't been what I wanted. I've learned a lot from these results though and I'm hoping this comes across at the world championships."
Great Britain Cycling Team for the UCI BMX World Championships, Baku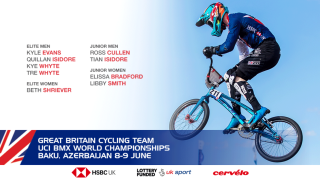 Elite men
Kyle Evans
Quillan Isidore
Kye Whyte
Tre Whyte
Elite women
Beth Shriever
Junior men
Ross Cullen
Tian Isidore
Junior women
Elissa Bradford
Libby Smith
Join Tre and Kye Whyte on British Cycling's Facebook page LIVE at 1.30pm on Thursday as they reveal their hopes for the world championships in Baku!