Katy Marchant has targeted reclaiming her national titles as the first step in what will be a busy 2018.
With the UCI Track World Championships and Commonwealth Games both now firmly on the horizon, sprinter Marchant is hoping for a strong start to the year at the HSBC UK | National Track Championships, which take place in Manchester between January 26 and 28.
Marchant has just returned from a training camp on Australia's Gold Coast, host of this year's Commonwealth Games, and while the 2014 games in Glasgow came just too early for the 24 year-old rider, she can't wait to pull on her Team England kit in April.
Over a week now in the Brisbane sun and it's definitely HOT perfect place for a training camp for the @BritishCycling sprinters! pic.twitter.com/3GnPK7ruVt

— Katy Marchant (@katymarch) January 8, 2018
"It's quite funny because at training we've got quite a few Welsh riders, a lot of Scottish riders, and now we're going to the Commonwealth Games as opponents," said Marchant.
"It's always really nice to go and represent your country, and it will be a different experience going there to represent England rather than Great Britain as we do at world cups and world championships. It's going to be a great atmosphere."
This month's HSBC UK | National Track Championships form part of Marchant's preparations for the Commonwealth Games, and she is intent on starting the year well.
After winning four gold medals at her last national track championships – in the sprint, team sprint, 500m time trial and the keirin – Marchant was unable to defend her titles last January due to a knee injury, and she's now eager to reclaim her titles in front of a home crowd.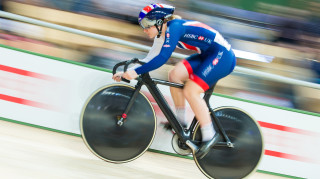 "To miss last year was a huge disappointment. Injuries are never good but to miss the opportunity to race on home soil is really disappointing, so I'm really looking forward to getting back this year.
"Riding against your teammates is always a good experience. You could say it's an advantage because you know how the other person rides, but then equally they could say the same about you. When I get on the track I try not to look at who I'm racing. I just go out with a game plan and ride my race, and hopefully come away with the win."
Marchant is right to be confident heading in to the New Year, following a string of encouraging results in the latter part of 2017 which culminated in a silver medal in the keirin at the UCI Track Cycling World Cup in Milton, Canada in December.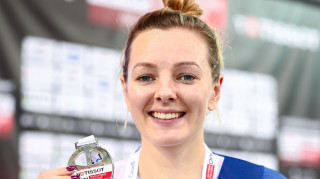 She has also made great strides in her team sprint partnership with Senior Academy rider Sophie Capewell, with the pair securing their highest-ever position of fourth in Canada. There are now six sprinters in the women's Senior Academy squad, providing vital competition for places in the lead-up to the Tokyo 2020 Olympic Games.
"It was our first time racing together in the Euros at the start of the season, so to keep improving every time we go out together shows the potential that we've got. It's really good for Sophie herself as such a young rider to keep racing competitively in the run-up to the world championships.
"It's highly competitive at the moment and they're all so level, and with Vicky Barnes coming back (from injury) it's really good for me to know that those girls are going to be hot on my heels. The HSBC UK | National Track Championships are a great opportunity for them to make their case for selection."