Great Britain saw two riders reach the top step of the podium in Namur this weekend, as Evie Richards and Tom Pidcock both rode to victory on the mud-soaked Belgian course.
Further British success came from Nikki Brammier, who finished second behind Richards in the elite women's category and junior rider Ben Tulett, who finished third.
There was strong results across the board from the other British representatives, including a second impressive ride from Sean Flynn, who finished fifth in the junior race, after his excellent second place finish at Scheldecross the previous day.
Elite women
Richards began the race on Sunday in 33rd place on the starting grid; making her 15 second advantage over the rest of the field in the final lap all the more remarkable.
Compatriot Brammier had a very strong race, battling with Italy's Eva Lechner and the USA's Katherine Compton throughout to claim her best finish of the season so far. Helen Wyman was the third Briton home, finishing in 15th place, after a top-three finish at Scheldecross on Saturday.
I've actually never heard the British national anthem played so much at a cross race! Huge congrats to @eviee_alicee @NikkiBrammeier @BTulett98 and @Tompid the future is bright!

— Helen Wyman (@CXHelen) December 17, 2017
Richards said: "I was in two minds whether to race today because I've been off the bike injured. I literally cannot believe it!
"I kept making mistakes in the last lap because I knew I was in front. It was so surreal - I didn't even think I'd get a top ten today!"
I am actually speechless! Today I took my first elite World Cup win and it feels incredible, I can't believe it @TrekFactoryXC https://t.co/CLHh0hmaS9

— Evie (@eviee_alicee) December 17, 2017
Under-23 men
Tom Pidcock had stiff competition in the under-23 field and had to battle his way through the leading riders to go head to head with fellow UCI Cyclo-cross World Cup round-winner, Belgium's Eli Iserbyt.
The churned up surface of the course put paid to several riders throughout the day's racing but Pidcock was able to dance his way across the mud; his fleet-footed approach seeming to give him the advantage over the rest of the field.
The 18-year-old eventually finished just over 15 seconds ahead of Iserbyt and took his third world cup round victory of the season in his new age category.
The coach's view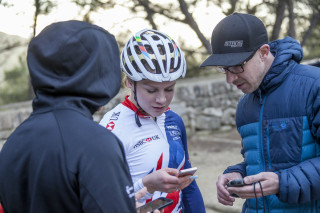 Great Britain Cycling Team lead mountain bike and cyclo-cross coach Simon Watts was delighted with the team's strong performances across the weekend.
"It's been a really good week, right through from racing last weekend to training in the week - there's just a really good feeling in the team at the minute," he said.
"Sean Flynn was outstanding in Antwerp on Saturday and Dan Tulett and Ben Turner have both been putting in performances that tell a lot about what's to come.
"Evie Richards put in a really controlled, excellent performance and Tom Pidcock was, just Tom Pidcock really!"
"Only now are the cyclo-cross and mountain bike teams really catching up with the other disciplines that have been so strong across all categories for the Great Britain Cycling Team.
"This generation will push through to cement these performances as the norm," he added.