Great Britain Cycling Team's Katie Archibald won four events over two days at the Dudenhofen Grand Prix, with Jack Carlin and Ellie Dickinson also taking race wins.
It was a stunning performance from Archibald to win four of five events, on a weekend full of success for the Great Britain Cycling Team.
The omnium world champion wore her rainbow stripes to win the omnium title in Germany as three British riders took all the podium places, with Ellie Dickinson second and Emily Kay third.
Archibald also took victories in the elimination and points races, with Dickinson third in the elimination and Megan Barker taking the runner-up spot in the points race.
Archibald then teamed up with Dickinson in the Madison to lead a British one-two with teammates Kay and Barker finishing second.
In the men's endurance events, Matt Walls took fifth place in the elimination race, before finishing sixth in the omnium, with teammate Joe Holt back in ninth.
Matt Bostock just missed out on the podium in the scratch race, finishing fourth.
Sprint
Jack Carlin came out on top in a battle of the British sprinters, taking the sprint win from teammate Phil Hindes in a thrilling final.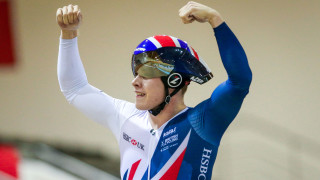 It was an excellent day of sprinting from the Great Britain Cycling Team, with Ryan Owens, Callum Skinner and Joe Truman taking fourth, fifth and sixth respectively.
In the keirin, Truman was the best finisher out of the British riders, taking fourth in the final, with Skinner fifth and Carlin sixth.
Katy Marchant took two third place finishes in the sprint and keirin races, with her teammate Sophie Capewell just missing the podium in both events, finishing fourth.