Lauren Bate's excellent week at the 2017 UCI Junior Track World Championships continued, as she broke the national junior 500m time trial record twice in one day.
Bate and fellow Great Britain Cycling Team Junior Academy rider Georgia Hilleard lined up against tough competition in the time trial qualifying round.
Hilleard missed out on a spot in the final eight, with her ride of 36.2 seconds, but Bate qualified as the fourth fastest after breaking the national record in 35.091 seconds.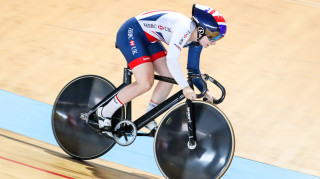 The young sprinter was hoping for more in the evening's final, believing that she could improve on her time after a shaky start.
Bate was right to have faith in herself as she broke the British record for the second time in the final; laying down a time of 34.907 and leading the competition with three riders left to go.
Russia's Yana Tyshenko and Germany's Lea Friedrich both set quicker times than the British rider but it was gold, once again, for Mathilde Gros of France, who set a new junior world record as she soared to her second rainbow jersey of the week.
#Montichiari2017 Women 500m TT: Gold @gros_mathilde (FRA) 33.937 WR, Silver Lea Friedrich (GER) and Bronze Yana Tyshenko (RUS)

— Peloton Watch (@PelotonWatch) August 26, 2017