Six British riders will be in action in Denmark at the 2017 UEC Road European Championships.
A strong under-23 women's squad has been named to compete in the time trial and road race events in Herning.
The team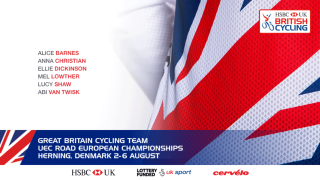 Under-23 national road race champion Mel Lowther leads the lineup set to compete against Europe's best in Denmark.
Lowther is in terrific form and has won the last two rounds of the HSBC UK | National Women's Road Series in Team Breeze colours.
Fellow Senior Academy rider Ellie Dickinson will look to add to her European medal haul, having competed for the Great Britain Cycling Team at the UEC Junior and Under-23 Track European Championships.
Dickinson won one gold and three silver medals on the velodrome boards in Anadia, Portugal.
Podium programme rider Alice Barnes has been selected for Great Britain Cycling Team duty - boosted by her first ever professional win in the BeNe Ladies Tour earlier in July.
Completing the lineup, road specialists Anna Christian, Lucy Shaw and Abi van Twisk will take to the Danish roads, with Christian, the under-23 national time trial champion, performing double duty with Lowther to tackle both the time trial and road race.
The courses
Herning is a city in the Danish region of Midtjylland on the Jutland peninsula, with a population of around 50,000.
The city has a proud history of textile and furniture manufacturing and is also a hub for cycling in Denmark, having hosted the start of the 2012 Giro d'Italia.
Time trial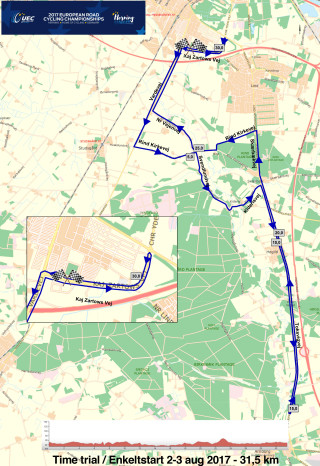 Lowther and Christian will face a 31.5km mainly flat course for the time trial, which starts and finishes to the south-east of the centre of Herning.
The route then heads further south into the countryside before turning back towards Herning, via a couple of short climbs.
Road race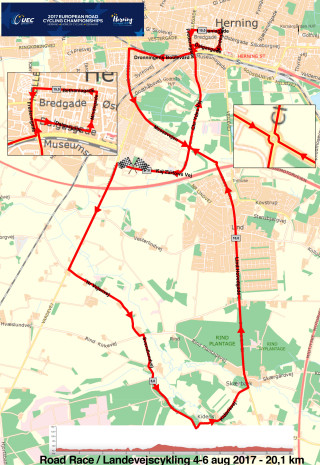 The under-23 women will race for 100.5km - five laps of a 20.1km circular course that passes through the city centre of Herning, heading south as far as Kideris and Skaerbaek.
The course is flat and quick and is set up for a thrilling race.
Schedule (UK times)
Wednesday 2 August
2.15pm-3.30pm - Under-23 women's time trial
Friday 4 August
11am-2pm - Under-23 women's road race
How to follow
Report and images will appear on the British Cycling website
Updates will appear on Twitter @BritishCycling