A gold medal in the UCI Para-cycling Road World Cup T2 road race for Great Britain Cycling Team's Craig McCann showed a rider in fantastic form, winning his second world cup medal in as many weeks.
A leading group led the race from the early stages, with McCann always in the mix, and it was the British rider who had the legs, pipping Germany's Hans-Peter Durst to the line as the race came down to a sprint finish.
McCann said that his performance in the Italian road race last week had given him a massive confidence boost and that he wanted to push on to win a 'different colour next time'.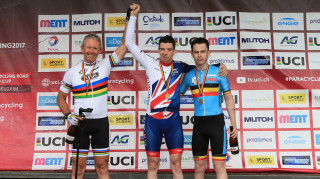 This second world cup medal underlines the ability McCann has as a bike rider; he made the switch to cycling from fencing following the London Paralympic Games, and his hard work is now paying dividends.
After failing to medal in the time-trials, McCann has found his form in the road race, adding a gold medal to his silver medal in Maniago.
More medal success for Mel Nicholls
Mel Nicholls, who won a bronze in the H4 time trial on Friday, won a second bronze medal in the road race on Saturday morning.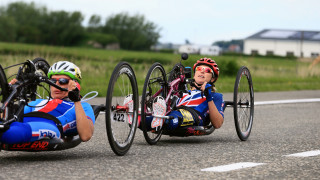 The Ostend world cup is Nicholls' first outing for the Great Britain Cycling Team and she has proved herself to be an excellent addition to the squad after her confident performances.
Para-cycling programmes manager Jon Pett said it had been a very successful day for the team.
"It was great to see Craig deliver his first world cup win in a strong field, and for Mel to follow up yesterday's performance with another bronze medal" he said.
Results