Dame Sarah Storey completed a stunning hat-trick of gold medals as she cruised to victory in the women's C4-5 road race at the Rio Paralympic Games.
Her win in the road-race on the final day of cycling at Rio 2016 follows gold in both the individual pursuit and time trial and means Storey has now won 14 Paralympic golds in her career, in both swimming and cycling.
Storey was joined on the podium once again by team mate Crystal Lane – who added to her track cycling silver by winning a sprint for bronze and the tandem duo of Steve Bate and Adam Duggleby also won bronze in the men's B road race, their third medal of the Games.
But the successes for ParalympicsGB were overshadowed by the tragic death of Iranian rider Bahman Golbarnezhad, who died after being involved in a serious accident during the C4-5 men's race.
Hat-trick
On a warm day in Rio, Storey and Lane stuck together for most of the race as Estonia's Mari-Liis Juul and Marie-Claude Molnar made an early break, building up a lead of 17 seconds at the 15km stage.
Juul dropped off on the second lap, with China's Jianping Ruan taking over and storming to a lead of around 44 seconds with 30km gone.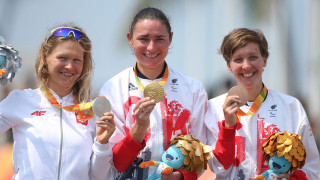 Despite the gap, Storey didn't panic and, working alongside the peloton, reeled in the leaders with around 25km remaining.
The defending champion bided her time before unleashing an unbeatable attack, finding herself several minutes clear inside the final 10km.
She crossed the line 3:29 before her nearest rival, Poland's Anna Harkowska, with Crystal Lane following three minutes later and holding off Delgado of Argentina and Germany's Brachtendorf to claim bronze.
Storey said everything went to plan: "It worked. I got away and took out as much time on the descent. I just kept pushing away."
After winning her second medal of the Games, Lane said she was thrilled.
"Very happy. It wasn't long ago I thought I'd be watching this road race happening and the road race is the one I dreamed of. This is the race I thought of when I was training through the winter."
ParalympicGB's Kadeena Cox, who has won cycling gold alongside athletics gold, silver and bronze at Rio, was unable to compete due to a hamstring injury.
Brilliant bronze
ParalympicsGB had two men's teams competing in the road race, with double gold medallists Steve Bate and Adam Duggleby joined by track time trial silver medallists Neil Fachie and Pete Mitchell.
It was the first time Fachie and Mitchell had ever competed in a road race and the longer distance proved too much for them, as they abandoned after around 40km.
Bate and Duggleby, buoyed by their previous successes in Rio, weren't troubled by an early and sustained attack by the Irish duo of Damien Verecker and Sean Hahessy.
Their lead of over a minute lasted for around 30km, but once the pair were caught, their efforts told - they too abandoned the race.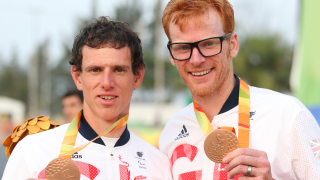 Bate and Duggleby then attacked, alongside Dutch pair Vincent Ter Schure and Timo Fransen and the Spanish duos of Ignacio Avila Rodriguez and Juan Font Bertoli and Carlos Gonzalez Garcia and Infante Martin.
The riders from the Netherlands and combination of Rodriguez and Bertoli had too much for the British pair in the closing stages, taking gold and silver respectively, as Bate and Duggleby held off Gonzalez Garcia and Martin to claim bronze.
It was a result that Steve Bate said they were pleased with.
"We've put the least preparation into this event out of the three. We were always targeting the pursuit and the time trial, those were the ones we really wanted to do well in.
"We always said we'd take this as it comes so we'll take that bronze. It was a hard race. We finished with a medal, three from three isn't bad."
Tandem women
In the women's B road race, tandem duo Lora Turnham and Corrine Hall had high hopes of adding a third Rio 2016 medal to their haul.
Having previously won gold in the track time trial and bronze in the time trial on the road, the pair came into this road race full of confidence.
In a shortened race, Turnham and Hall were always in the leading pack, but struggled with the pace of their rivals on the final climb, ultimately coming fourth with Poland's Iwona Podkoscielna (piloted by Aleksandra Teclaw) winning the gold.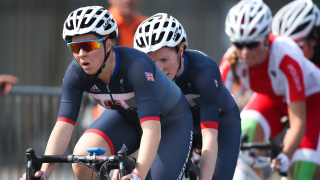 Ireland's Katie-George Dunlevy, piloted by Eve McCrystal won silver with bronze going to Emma Foy of New Zealand and her pilot Laura Thompson.
After the race, Hall said they weren't too disappointed with their result.
"We gave it everything we could. We lost the Polish and the Irish on the climb and just couldn't stay with them. We're pretty happy to have got fourth place, it was probably the toughest road race we have ever done.
"It's been an amazing experience and it's amazing to be going home with two medals. We are looking forward to celebrating with our families."
Gallery
Results