As I sit in yet another hotel room with my mate Jaco Van Gass before the UCI Para-cycling Road World Cup in Belgium, it's funny to look back and reflect on being told I had retinitis pigmentosa, an eye condition that would cost me my driver's licence, career and probably my sight. I thought nothing positive could come out of that diagnosis. I was wrong.
A bit of downtime ahead of the world cup in Belgium for @kiwistevebate & @jacovangass! https://t.co/fhDClxCDfghttps://t.co/pcBF0Hff6p

— British Cycling (@BritishCycling) May 19, 2016
This time three years ago I was hanging off one of the largest rock faces in the world without a second thought about riding a bike or going to a Paralympic Games. Fast forward to now and here I am hanging onto the dream of competing for my country at the Rio Paralympic Games. I've been lucky with a couple of amazing opportunities since opening my eyes to the world of being visually impaired, but it took me a while to open them again in a positive light.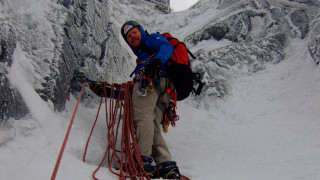 When I became the first visually impaired person to solo climb El Capitan in the Yosemite Valley in California, the question was what's next? What could out do what I had just achieved? Going to a Paralympic Games seemed to fit that bill on every level.
I felt after climbing that 1000m rock face I could achieve anything and setting this goal was the perfect challenge to test that theory. Climbing El Capitan was on my terms but going to a Paralympics was so far out of my control that all I could do was apply myself, work harder than everyone around me and prove I have what it takes to be the best. I had the full support from my wife Caroline and my friends. As my degenerative vision narrowed so did my focus on what I had to do. Everything that wasn't helping me become an elite cyclist had to be put on hold.
I started with a talent identification day in Glasgow and was then asked to attend a training camp in Newport with the development team. John Hewitt was my first coach and he has had a massive input into getting me where I am today and is still very much a part of the team of coaches and staff I have around me. At first it was a shock to the system just how hard the training was. I was still working a full-time job and had to fit training in around that. Sometimes this meant getting up at 5am to get a session done before work and then doing another session after getting home.
One big influence I had early on was Jason Queally. I actually had no idea who Jason was at the time! I quickly found out that he won a gold medal in the Sydney 2000 Olympics! Jason invited me to stay at his house for a week to train. Three hours into our first hilly ride, in the pouring rain and wind he told me he thought I had what it would take to become a Paralympian. All I had to do was keep working hard. At that time it was just what I needed to hear and it meant a great deal coming from Jason.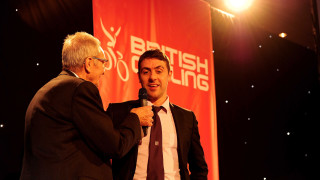 I think the most important part of the early days were the team mates I had. I was still living in Scotland but had regular trips to Manchester to train on the National Cycling Centre velodrome. I always looked forward to these intensive three-day training blocks with the guys. We formed a tight bond and friendships that will last a life time. During training we worked hard but once the session was complete it was time to recover and have a laugh. Jon Gildea and Adam Duggleby (my pilot) are always the jokers with the likes of David Smith, Jaco Van Gass and Louis Rolfe always keen to chip in enjoying the fun.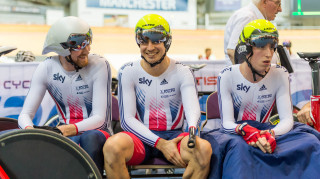 I've got to come clean and tell you it hasn't always gone to plan. In my very first race in the Great Britain Cycling Team colours, with only 100 metres to the finish line my legs cramped so badly I got ejected off the back of the tandem. As I lay flat on my back on the road one of the coaches Archie appeared to make sure I was okay. As soon as he knew I was fine he told me to get up and finish the race. A sharp reminder we hadn't finished until I crossed the line.
This was the first stage of a two day stage race in Holland and I'm sure my coach was prepared for me to withdraw the following day. However I was there to show everyone that I could be a professional so I got on with it and climbed on the back of the tandem and carried on. The second day was a painful experience, however a worthwhile one and we won the road race finishing on our own and taking the overall win of the tour. As we stood on the top of the podium pulling on the winners jerseys for the first time the announcer said "yesterday he was flying off the bike, but today he was flying on it."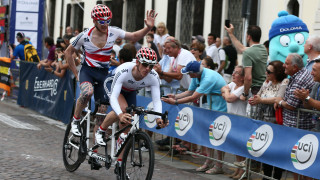 British Cycling has now launched the Track2Tokyo talent search program with testing events taking place in July and October. If you have a disability and a willingness to do your best then please get in touch and maybe you could join this amazing team.
In tomorrow's blog I will take you through my year in 2015 and my hopes for Rio.