British Cycling has announced the squad that will represent the Great Britain Cycling Team at the 2016 UCI BMX World Championships in Medellin, Colombia from the 25-29 May.
2013 world champion Liam Phillips will be looking for the second world title of his career and has been selected alongside Kyle Evans in the elite men's category.
Both riders produced excellent performances at the second round of the UCI BMX Supercross World Cup in Manchester as they completed a British one-two, with Phillips winning in Manchester for the fourth year in a row.
Great Britain Cycling Team Junior Academy rider Bethany Shriever has also been selected and will compete in the junior women's event, after an impressive debut at supercross level for the Great Britain Cycling Team in Manchester, reaching the semi-finals in the women's elite category.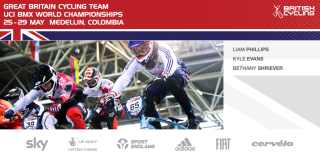 Great Britain Cycling Team head coach, Iain Dyer, said: "Liam and Kyle have started the season in excellent form and I think both riders have an excellent chance of being in medal contention in Colombia.
"Liam has arguably been the most consistent male BMX rider over the last three years, with one world title and two overall UCI BMX Supercross victories highlighting the consistency of his performances, while the way Kyle has started the season suggests that he is on the way to achieving the results that we know he is capable of.
"It's been fantastic to see the progress that Bethany has made in such a short period of time and her selection for the world championships is well deserved and testament to all the hard work she has put in."
Great Britain Cycling Team at the 2016 UCI BMX World Championships
Elite men
Kyle Evans
Liam Phillips
Junior women
Bethany Shriever