Great Britain Cycling Team's Evie Richards produced a superb performance to win the under-23 women's title at the 2016 UCI Cyclo-cross World Championships in Zolder, Belgium on Saturday.
Richards decimated the field in challenging conditions at Circuit Zolder, taking the lead from Italy's Chiara Teocchi at the end of the first lap and going for a long solo bid for victory.
Gallery
The 2015 cross-country mountain bike world championships silver medallist looked composed and in control as the rain continued to fall, increasing her advantage over Czech rider Nicola Noskova and Maud Kaptheijns of the Netherlands to make cyclo-cross history in the inaugural running of the under-23 world championships event.
What a day, doesn't feel real ! #worldchampion #zolder #cyclocross @UKmadison @lazerhelmets @BritishCycling pic.twitter.com/BTQLGmkLre

— Evie (@eviee_alicee) January 30, 2016
"I started quite far at the back," said a delighted Richards. "I was third row so I didn't really know where I was to be honest. I didn't realise I was in first and I'm not a fan of riding in a group. I just wanted to make a break and just get away and see how long I could last.
"I lasted four laps!
"It feels amazing! This is my first cyclo-cross race abroad so to get a jersey for my first race is incredible and I wouldn't want it any other way."
Alice Barnes was ninth, two minutes down on her teammate with Hannah Payton the next Brit home in 12th. Ffion James was an excellent 15th with Bethany Crumpton 25th.
Barnes congratulated teammate and housemate Richards on her win before summarising her own performance: "I'm really happy for her. I live with Evie so I know she's really strong and she works really hard toward this so I'm really happy for her."
"It was really tough - I was starting quite far back because it was my first international 'cross race.
"It was just a case of picking my way through the field but I loved the course - I really enjoyed it at the same time.
"I think I got ninth place in the end so I'm really happy with that."
Fifth for Harris
Nikki Harris took fifth place in an electrifying five-way battle for the elite women's title, with the Netherlands' Thalita De Jong emerging as the victor.
"I tried my best but that's racing," said the British champion.
"It was a great race on a great course but it wasn't my day. I was there and tried my best I slipped and lost my momentum when leading and the group had caught me."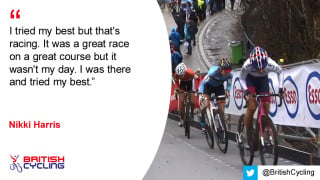 Harris was amid the leading group that traded blows throughout much of the race, attacking on lap three and trying to distance Sanne Cant, Sophie de Boer and Caroline Mani.
But it was De Jong who stalked the leading quartet and came through to distance the medal contenders on the final lap, Harris' earlier efforts meaning she was unable to go with the powerful Dutchwoman.
"I'm gutted, but I can't be disappointed with the effort. I did everything I could." - @NikkiHarris86. #CXZolder16 pic.twitter.com/nFrblN1eh1

— Boels-Dolmans (@boelsdolmansct) January 31, 2016
Mani took the silver medal with world cup and European champion Cant in bronze. Britain's Helen Wyman was 11th, the nine-time British champion having led on lap one.
Junior Pidcock battles to fifth
The championships began with a gritty performance from Great Britain's Tom Pidcock who battled through the field from a poor gridding position to finish fifth, as the Netherlands' Jens Dekker added the rainbow jersey to his European and world cup season haul. France's Mikael Crispin took silver ahead of countryman Thomas Bonnet.
16-year-old Pidcock from Leeds was over a minute down on the leaders after a disastrous start but ploughed through the mud and rain to reach a group battling for fourth position. A surging last lap saw Pidcock move from eighth to challenge Switzerland's Kevin Kuhn for fourth position.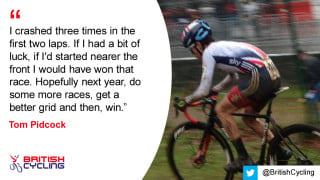 "I crashed three times in the first two laps," said a frustrated Pidcock.
"It never seems to go well for me but at least I managed to get back up to fifth. Just unlucky. Can't get it right every race.
"On the first lap obviously world champs it's a bit more sketchy than normal," he continued. "There was a pile-up on this corner and I rode straight over the top of it, got my bike tangled and went back places and then crashed on the descent into some kid who fell off.
"If I had a bit of luck, if I'd started nearer the front I would have won that race.
"Hopefully next year do some more races, get a better grid and then, win".
5th at my first ever world champs! Gutted about 3 crashes but fastest last lap. Awesome ride @eviee_alicee! World champ!!!

— Tom Pidcock (@tompid) January 30, 2016
Pidcock's performance echoed that of a week earlier, when the British Cycling Olympic Junior Academy rider moved through the field to finish second at the final round of the UCI Cyclo-cross World Cup in Hoogerheide.
Pidcock's teammate Dan Tulett was next home in 21st with Ben Turner in 27th. Will Gascoigne was 42nd while Mark Donovan did not finish.
Action from Zolder concludes tomorrow with the under-23 and elite men's races. Watch live from 9:50am (GMT) at po.st/GBLive.
Results