British Cycling spends some time with Great Britain Cycling Team's carer Luc De Wilde to gain insight into what his role involves.
How did you get into this role?
Luc De Wilde: I started back in 2006 when the team was looking for a carer for the 'Baby Giro' which is the Giro d'Italia for under-23 riders – a mutual friend put me in touch with Shane Sutton. I'd never been on a plane before; I didn't even know where the airport was!
When I arrived in Italy, there was nobody there to meet me as the mechanic was trying to find the bikes, so I was like 'what am I doing?'. So that was the start, and then I worked for the next two years part-time as I still had a job as a plumber in a hospital in Ghent.
The carer role then started getting bigger and bigger and there was more work coming my way so I made the decision to go full time. It was either that or to stop altogether, as I was sometimes a little bit tired when I got back as the carer role can be very intensive. It's a great job but it's quite demanding - you're there to look after the riders so that means you're the first one up in the morning and the last one to bed at night.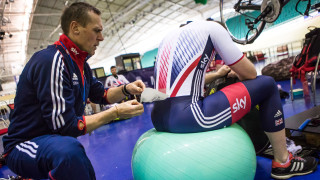 What's an average day for you on an event?
Luc: The first day is always getting things sorted, get everything to the track, then get everything organised, sorting out the nutrition as the CNP stuff comes in boxes, things like that. Then I'd do the shopping to make sure the team has everything they need. Then I'd get back to the track ahead of that day's training session to set up the pit area.
My role involves working closely with the mechanics and we go to the track about an hour before so that when the riders arrive, everything is there and they can come into the pit area and relax. After training, I'll come back to the hotel and try and find somewhere to wash the riders' kit, usually if the event is in Europe I can do this in one of the GB vans which has a washing machine built in.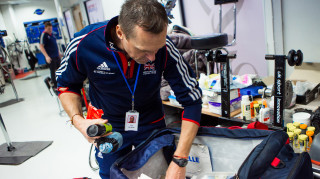 Once that's sorted out, it's massage time. I organise the timetable for that and prioritise who needs treatments first, for example if someone has an injury. I work closely with the physios back at HQ and they let me know who might have an injury niggle.
It can be quite difficult and complicated to do massages when the competition has started as you can be spending around 14 hours at the track.
Then at night, if I'm not busy with massages, I'll attend the team meeting, and here I'll find out what time the first rider is coming down for breakfast. The next day, I'll make sure I'm up about 30 minutes before them to prepare the breakfast box as we always travel with our own breakfast items, like cereals, jam - the things they're used to.
Then I'd have breakfast with them when they come down before heading off to the track and repeating the whole thing again!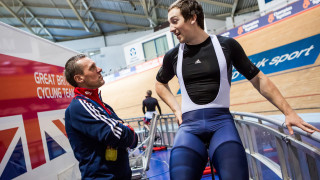 It's a very varied role, are these things you've learned over the years or have you had specific training?
Luc: You have to keep learning, you never stop. In Belgium, I did something called the 'soigneur course' which takes a year. It's really valuable, for example everybody can do a massage, but if you don't know about the muscles then you can rub but it wouldn't be effective.
On the soigneur course we didn't see a massage table for the first six weeks, instead we learnt about all the muscles, how they work and why. I think doing it this way gave me a lot of confidence in myself and my ability.
These days, the youngsters are smart so if they have a problem or if they feel something they want to know why and how to fix it so if you can't answer them then it can be difficult. If they feel like I know what I'm doing, then they'll have confidence in me.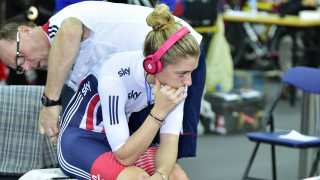 Having confidence is important for a another reason too. When they talk to the coach or to the media then it's always about their performance but we are the people to whom they can talk about other things that's going on in their lives. They're on the massage table, they're relaxing, and it makes such a difference if the rider can have confidence in you.
You work across all the rider routes, not just the elite. Do you enjoy that?
Luc: Yes. I love to work with the juniors, so I like to do Paris-Roubaix juniors and the junior track races because then they get to know you and you feel connected with the whole process because you can see it coming.
People like Laura Trott, when she was a junior it was never guaranteed that she'd win two gold medals in London but you can see that there's something special there. And then some of the young ones go on to surprise you. You know they're good, but you don't realise how good. I feel like a proud uncle sometimes!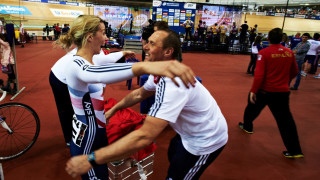 You've worked at both London and Beijing Olympics and there's been some other landmark moments too, is there something that stands out for you?
Luc: I can't pick one moment because the last ten years with British Cycling have been so amazing, just look at the results we had.
The first Olympics is always special because you don't know what's going to happen – everything's huge, you meet all the athletes. For example, I stood next to Rafael Nadal and it's something really special.
Then London was extra special because it was a home Olympics and it's once in a lifetime, so it's hard to pick one moment out. Manchester worlds (in 2008) was amazing for me, the crowd here for Wiggins and Cavendish winning the Madison title was really amazing, I had goosebumps the whole time.
Or Sir Chris winning the keirin in London or Vicky Pendleton's last race, that was really special for me. There's so many moments, it's just been amazing the last ten years when you look back on it.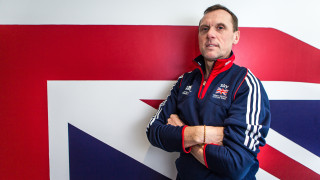 What would you say to someone who wants to do a role like yours?
Luc: It's an amazing job, you travel around the world, you see a lot of things but it's not always sunshine. It's about always being there and always looking after the riders.
And you have to remember, it's not about you. We're part of a chain and the chain works well when everyone does their job. It's certainly not easy, but then nothing is easy in life. But it's an amazing job.
What are the key personality attributes that you need to do the job?
Luc: I always say if you're clean and keen then that's a good start! The rest is experience. I'm open to learning every day and there'll always be something I'll see someone do and I'll think 'that's a good way of doing it, I'll change the way I do that'.
If you really want it, if you're ambitious, if you like to work hard, if you don't mind the travel and if you like to work in an environment with athletes then a carer job could be for you.
Interested in working as carer in the Great Britain Cycling Team? British Cycling is currently looking to appoint a carer to support the Great Britain Cycling Team.