The last round of the 2015/16 UCI Track Cycling World Cup will see 17 Great Britain Cycling Team riders travel to Hong Kong on 16-17 January for another chance to score qualification points towards the world championships and the Olympic Games.
Top stars including Mark Cavendish, Laura Trott and Jason Kenny head up the team that hopes to lay down a final marker at the Tseung Kwan O venue before returning to Britain to prepare for the UCI Track Cycling World Championships in London in March.
The team
Sprint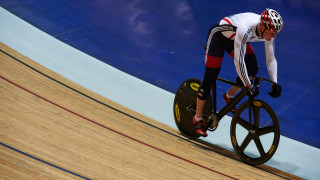 Seven sprinters will travel to Hong Kong, with Callum Skinner making his second world cup appearance of the season after missing the first round. The 23-year-old Scot won four national titles back in 2014 and has struck world cup gold before in the team sprint with Jason Kenny and Philip Hindes in Mexico at the end of 2014.
Hindes, along with Kenny, have been selected for all three rounds of this year's world cup series, in their quest for world championships qualification. With Lewis Oliva, the pair placed fifth in Cali before going one better in Cambridge with Skinner as man-three. Great Britain are currently third overall in the world cup team sprint rankings behind Germany and the Netherlands.
Matt Crampton returns to the sprint line-up after missing the second round in New Zealand. The British keirin champion was selected for the first round but did not compete.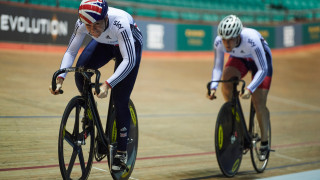 After making her world cup return in New Zealand, 2013 triple-world champion Becky James is back again for the final round with Katy Marchant and Jess Varnish.
James finished 18th in the sprint at the Cambridge Avantidrome, eliminated at the 1/16 final stage while Marchant progressed to the minor final, finishing sixth while Marchant paired with Varnish in the team sprint finishing 11th
Endurance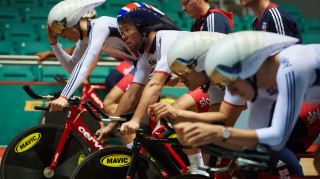 Mark Cavendish returns to the track for Great Britain at a world cup level after a long hiatus and will ride the omnium in his quest for Rio 2016 track selection.
Great Britain has thus far been represented by Jon Dibben and Chris Latham in the six-discipline event with principal omnium rider Ed Clancy side-lined with a back injury. Dibben placed fifth in Cali while Latham bagged an impressive silver in New Zealand.
The on-form Latham returns for the final round along with Germain Burton, who alongside the absent Mark Stewart, took Madison bronze in the last round. There will however be no Madison event in Hong Kong.
New Zealand saw Burton, Stewart, Ollie Wood and Joe Holt take fifth in the team pursuit, equalling the result of Burke, Doull, Tennant and Wiggins in the preceding round. Great Britain's male team pursuiters currently lie in sixth in the world cup rankings after two events, with 420 points, with Australia at the top of the table with 540. However only 30 points separate Great Britain from second-placed Switzerland; between them lie Germany, New Zealand and Russia.
Matt Gibson was originally selected for Hong Kong but succumbed to illness and is replaced by Kian Emadi, the 2014 Commonwealth Games team sprint silver medallist having recently transferred from sprint to endurance.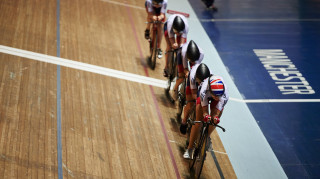 Thanks to a knee injury Great Britain will have to do without Katie Archibald in the women's team pursuit line-up, Laura Trott, Elinor Barker, Joanna Rowsell Shand, Ciara Horne and Emily Nelson will be drawn from for the 4000-metre event.
Nelson was part of the young team that rode to eighth place in New Zealand, after the senior team took bronze in Cali in a dramatic final that saw an illness-stricken Barker withdraw at the start line in the final.
Great Britain currently lie in fifth overall in the rankings, 166 points behind leaders Canada and will hope to put illness and injury behind them and lay down a competitive time with the world championships approaching.
Trott was dominant in the omnium in Cali while Emily Kay took over duties in the multi-discipline event in New Zealand, finishing 15th. Trott is fifth in the rankings on 150 points, with Kirsten Wild, who competed at both Cali and Cambridge, leading on 226.
Full lineup
Elinor Barker
Germain Burton
Mark Cavendish
Matt Crampton
Kian Emadi
Philip Hindes
Ciara Horne
Becky James
Jason Kenny
Chris Latham
Katy Marchant
Emily Nelson
Joanna Rowsell Shand
Callum Skinner
Laura Trott
Jess Varnish
Ollie Wood
World cup standings after 2 events
The venue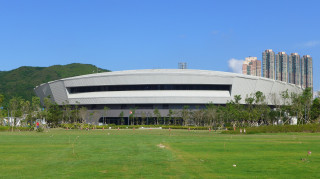 The Hong Kong Velodrome is situated in Tseung Kwan O and is owned by the Hong Kong government. The velodrome was built following Wong Kam-po's victory in the road race at the 2006 Asian Games, foregrounding the requirement for a proper training base for Hong Kong's riders.
Work began on the velodrome in 2010 and the 250-metre wooden track, which has capacity for 3000 spectators, was officially opened in December 2013. The event will mark its debut as a world cup venue.
Schedule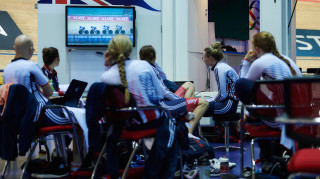 Friday 15 January
Team pursuit qualifying (men and women)
Team sprint qualifying (men and women)
Points (men and women)
Scratch (men and women)
Saturday 16 January
Team pursuit (men's and women's finals)
Team sprint (men's and women's finals)
Omnium (men and women, events 1-3)
Women's sprint
Men's keirin
Sunday 17 January
Men's sprint
Omnium (men's and womens, events 4-6)
Women's keirin
How to follow the racing
A report, results, reaction and images will appear on the British Cycling website
Follow @BritishCycling on Twitter for updates
The final session plus selected highlights will be available online at tv.uci.ch on Sunday 17 January from 8:00am to 11:20am GMT
Links