Alice Barnes believes a world cup win is within reach after a breakout third position at the under-23 UCI Mountain Bike World Cup cross-country.
Speaking after her career-best result in Mont Sainte Anne, Barnes revealed she had far from the perfect performance and is already targeting improvements to reach the top step.
The British Cycling Olympic Senior Academy athlete talked of a crash at the British championships that hampered her training and confidence ahead of a below-par result at the European championships.
"I was very battered and bruised after crashing in the rock garden at Hadleigh" Barnes said – despite finishing second to Annie Last at the event.
"It took me a while to recover from this and I wasn't feeling myself when racing the European championships.
"I then had to try and forget about that and just take it as a bad day so I could move on and start thinking about the next two world cups. I had a good travel to Canada and course training went well. I felt good on both the climbs and the technical descents so was ready to give it my best, and I did and it led me to my best result."
Barnes achieved that result despite further crashes in practice and the race itself, but showed mental strength to remain focused on the task in hand.
"With it being such a prestigious race I knew going in the course would be challenging. I had a few falls on La Beatrice, especially when it was wet on the top corner. I had to put this to the back of my mind and focus when I was racing.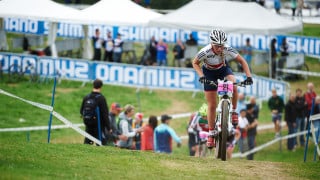 A crash on La Beatrice on lap three meant Barnes was caught by second-placed Alessandra Keller, but it was in the last two laps that the second-year under-23 rider began to physically suffer with cramp.
"Once I was getting the cramps I was focusing more on keeping my podium place as I was struggling to hold the wheel of Keller, but now I know it is possible to improve my position once I work on not getting cramp."
Barnes puts the problem down to the nature of the course, which meant there were few opportunities to drink between tough climbs and rock-strewn descents.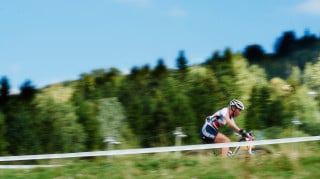 The prospect of racing in Windham this weekend however is a very different one, with just one climb and one descent served in a less technically demanding package.
Barnes scored her best world cup result in America last year, so is in confident mood going into the race – even allowing herself to think about one day winning a world cup.
"I would like to think I can win a world cup whether it is this year or next year. I still believe there is a lot I can improve and doing this can lead to the top step.
"Windham last year was my best world cup result where I was sixth so I am looking forward to racing here again. It is a very different course in Windham so I will focus more on freshening up for the race and as always doing my best.