Kyle Evans, Charlotte Green and Quillan Isidore will represent Great Britain Cycling Team at the 2015 UEC European BMX Championships on 11-12 July in Erp, Netherlands.
The trio will compete in the elite men's and women's categories respectively on Sunday with the challenge and cruiser classes also taking place over the weekend.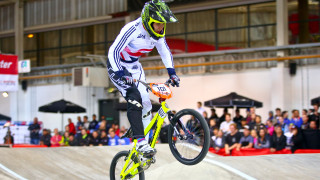 Liam Phillips misses the event as he focuses on preparations for the UCI BMX World Championships in Zolder, Belgium. Tre Whyte continues his recovery from injuries sustained at the second round of the UCI BMX Supercross World Cup in Papendal.
Evans, Green and Isidore will also compete in the world championships from 21-25 July.
Great Britain Cycling Team for the 2015 UEC European BMX Championships