Road To 2016
Jon Norfolk welcomes strength in numbers as Olympic Development Programme sprinters are inducted

---
Following inductions for the 2012/13 Olympic Performance Programmes, Jon Norfolk, British Cycling's Olympic Development Programme (ODP) sprint coach has a wide and diverse range of aspiring athletes to work with at the start of a new four year cycle.

Danielle Kahn (right), moved from speed skating to cycling, joining a diverse ODP

That number includes an ex-speed-skater and a former weightlifter among the eight athletes aged from 15 to 19 years old.
Usually, criteria to join the ODP is defined by age but in the sprint squad, where rates of physical development are more prominent in performance, the aim is to develop the most stimulating environment for training - regardless of age. That's why the latest intake includes those who would usually be on Talent Team or the Olympic Academy.
Norfolk stresses "we have to be quick enough to match the potential of the fast developers; we cannot let them stagnate. To a certain extent you can't control your own physical development but you can do as much as you can with what you've got – that is matched with a solution within our Programmes to suit every athlete in every situation."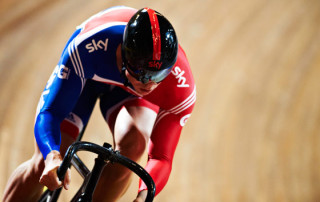 Hoy - according to Norfolk took many years to reach his peak
Using the examples of Jason Kenny and Sir Chris Hoy to illustrate his point, Norfolk noted one of Britain's most successful Olympians was a slower developer.
"Chris didn't pop out as a natural sprinter; in his first world cup he rode the team pursuit. It took him many years of training to get to that peak. On the flip side Jason Kenny moved from the ODP to a podium at the Beijing Games in four years. The adage of Shane Sutton – if they're fast enough, they're old enough – is what we pay attention to."
Despite such a precedent and experience of identifying those with the ability to become Olympic champions, Norfolk admits the biggest challenge is to predict and neutralise performance at a young age – especially when those physically younger can have a potential just as high, if not higher than the fast developers.
"We're not looking for the fastest athlete, it's about you progressing as an individual. All the athletes we took on were competitive and have been on the radar for the whole year. It was just a case of confirming what they were capable of in the summer in terms of their race potential. It's been great to put it on the map and it's been the biggest number of sprinters we've had on the Programme for a long time. It creates pressure in terms of selection and performance."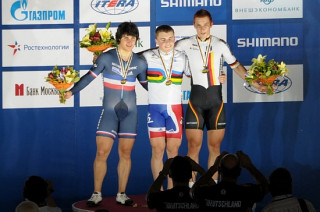 John Paul - the last British junior sprint world champion in 2011
In previous years, those squad selections for major championships were small in number, however Norfolk believes the decision to keep standards high is now paying off.
"It's been tough for the guys who have been the odd one or two in the past years, but we've been strict in terms of what we've been looking for and not adjusting the bar to suit who was there. As the Programme evolves and the interest in cycling grows, the bar and performance moves up every year, to have those riders who do develop at that faster rate sets the bar and shows the example for the other guys.
"The athletes who have just been inducted need to remember this year goes very quickly. There's temptation is to sit back and enjoy the kit and support, but they have to get cracking. Everything that we've done at this camp is skill orientated so we get as much information as we can. We need to up skill these athletes enough to express the inevitable physical development.
"We've got a mix of athletes – some who thought they would be here, some who are a bit shellshocked and all of which that have the same challenge to get stuck into. I guess some will and some may not so much and we'll see the outcome at the next camp at the end of November."
Following Olympic Performance Programme inductions, British Cycling will continue to document the progress of the aspiring athletes as part of the Road To 2016.