|
| |

---
After the British Cycling team achieved a stunning medal haul at the Beijing 2008 Paralympic Games, they set themselves a rather high bar to match at London 2012 next year.
Britain topped the cycling medal table with 20 medals which consisted of 17 golds and three silvers. The magnitude of the achievement was put in perspective by the fact that their closest rivals were the United States who left China with a total 13 medals, just five of which were gold.
Replicating such a task will not be easy but it is one that Gareth Sheppard, the British Cycling Paralympic Performance Manager, admits he is relishing.
"Beijing was phenomenal," said Sheppard. "All our riders performed magnificently and once we got that first medal, the mood in the camp was so confident that we just got on a roll and never looked like being beaten. It was just like with the British Cycling team at the Olympics where everyone feared us and everything we discussed beforehand came off perfectly.
"What the team achieved there under the leadership of our coach Chris Furber was magnificent and we set such an incredibly high standard that it will be very difficult to match it in London 2012.
"We always aim to strive to match what we have achieved before but you cannot draw a direct comparisonbetween Beijing and London because things have changed. Some events have been taken out of the programme since China and some of the classification groups have been altered but we have had an incredible year last year and we are full of confidence.
"I don't want to give too much of our London 2012 plan away and say exactly what we are going to do in the next year but in terms of planning and strategy; I can say that we are where we want to be with a year to go and I know that we have got some very strong gold medal prospects."
Two of those Sheppard is referencing are the dynamic duo of Jon-Allan Butterworth and Tel Byrne, both of whom come from a military background. Butterworth lost an arm fighting for his country in Iraq while Byrne had his leg blown off doing the same in Afghanistan.
The pair were told about Paralympic Cycling by Battle Back which is a Ministry of Defence programme that encourages injured servicemen to get involved in sport.
They attend separate training days where their huge potential was quickly spotted and it has been almost non-stop success ever since the pair joined the development programme.
Butterworth won gold and broke the world record in the C5 1k time trial at this year's World Championships in Italy, while Byrne took gold in the mixed team sprint, also breaking a world record which is a rather impressive feat for two guys who had not ridden competitively until November 2009.
"Jon and Tel are exceptional athletes and I think one of the reasons they are doing so well is because of their military background," explained Sheppard.
"They are used to hard work, pushing themselves to the limit and really putting your body on the line no matter what to achieve what they want. But I think all the riders in our team have those qualities which makes us very strong.
"As well as the more established riders like Jody Cundy, Sarah Storey and Darren Kenny, there are some very strong up and coming riders. Mark Colbourne in the C1 class is definitely one to watch and there are also a few others like Simon Price and Crystal Lane".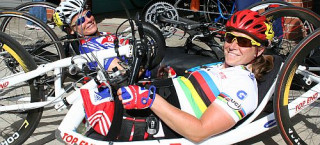 But before the Paralympics, there are two key dates that Sheppard has put in the diary.
"The first major event we are focused on is the 2011 UCI Para-Cycling Road World Championships in Roskilde in Denmark," he said.
"That event will take place on 8-11 September and we really hope to put down a marker for it.
"The second is the 2012 UCI Para-Cycling Track World Championships in Los Angeles and that will be the last major event for us before the Paralympics.
"They will also be key events in terms of getting qualifying points for London 2012 for the riders so they are really important.
"We are looking to medal at these events but the difference between gold and silver is very small so we will keep monitoring our athletes at the World Championships to make sure they continue to improve because the opposition is getting better all the time."
And on a personal level, Sheppard is just excited to be where he is.
"There is obviously a unique set of challenges with a Home Games as well as big pressure and expectation but the biggest pressure is the pressure you put on yourself. It feels greater than the pressure of Beijing but you must just manage that expectation and focus on your job and I'm sure we will do that and be successful in London 2012.
"I feel very lucky to be where I am at such an exciting time and to be leading the GB Para-Cycling Team into it with such a dedicated and professional coaching team. It's a privilege but there is no time to focus on that just yet!"