Photo: Darren Kenny and Rik Waddon in action

Chasing points for London 2012 and looking for form ahead to the Para-Cycling Road World Championships in September were on the agenda for the GB squad on their recent trip to Italy.
First up was the Trofeo Comune Di Verolanuova a P1 event at Brescia, east of Milan. The two day race consisted of road racing for all categories on Saturday and an 11km Time Trial on Sunday. Torrential rain and thunder storms greeted the riders for the morning races but the skies soon cleared for the expected hot sunny weather. David Stone easily won the T2 road race. Cornering his trike skillfully in the wet conditions, Stone left the bunch behind and soloed to victory.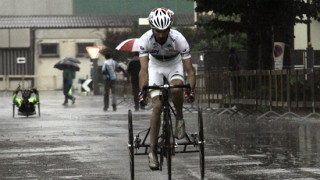 Photo: David Stone wins in torrential rain
Darren Kenny worked hard to protect Rik Waddon who rode well but the strong Italian squad outnumbered them and he placed third. Hand cyclist Rachel Morris also had to contend with atrocious conditions but finished victorious, if more than a little wet. Fellow hand cyclist Karen Darke was not so lucky. Her machine went missing on the outward flight and she was forced to sit out the racing. New squad members Simon Price and Mark Colbourne gained valuable experience from the weekend's racing and older hands Jody Cundy and Russ White were also in action. Crystal Lane won the women's C5 road race and looks to be an exciting prospect. Both Crystal and David Stone went on to win their respective time trials on Sunday whilst Kenny rode strongly to win the C3 TT.
With the competition over, the squad moved north for a seven day training camp in the hills around Trevesio. The warm sunshine and rolling terrain ensured a week of good quality work - a mix of steady road miles, tough climbs and some speed work behind the scooter. The riders will return to the UK for a week before heading out to Liege for the P1 Belgium Para-Cycling open and Bath for the BPA One Year to Go camp.
The Para-Cycling Road World Championships in Roskilde, Denmark, run from the 8th-11th September 2011 and the squad will be announced in early August.