Graham Briggs (JLT Condor) marked his recovery from illness by taking a brave solo victory in the Chepstow Grand Prix, the penultimate round of the British Cycling Elite Circuit Series on Wednesday night.
The Doncaster rider attacked on lap one and marched to the win in glorious style, while his team-mate Tom Moses attacked from the chasing break in the closing laps to take second spot for JLT Condor, with Chris Opie (One Pro Cycling) third.
One Pro Cycling's Jon Mould led the Series heading into the race, and only one rider could catch him in the final two races – David McGowan (Pedal Heaven).
But with McGowan not starting the race at Chepstow due to illness, Mould was assured of the overall Series victory before he had turned a pedal.
The race completed one processional lap behind a motorbike before they started the race proper, and virtually as soon as the bike peeled off Graham Briggs (JLT Condor) attacked alone.
The former National Circuit Race Champion, Briggs is coming back from illness which has blighted his season, and quickly gained 18 seconds as he sent out the message that he is 100 per cent fit again.
After a few laps on his own, the bunch began to show interest in chasing him down, with Evan Oliphant (Raleigh GAC) and Johnny McEvoy (NFTO) on the hunt, and they were joined shortly after by Briggs's team-mate at JLT Condor, Tom Moses.
But there was no stopping Briggs, who was consistently gaining around two seconds per lap in search of the backmarkers and made the wet conditions look non-existent.
The high pace led to several riders pulling out, including Chris Lawless (Team Wiggins) who won round three the Stockton Town Centre Race, and Series leader Jon Mould also pulled out, with the title already in the bag.
With ten minutes plus five laps still to go, Briggs showed no signs of letting up, and he set about hunting down the peloton.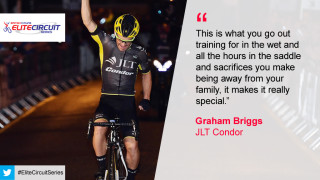 With 20 minutes left he was 38 seconds behind the back of the bunch, and with six laps to go, the gap had dropped to just 18 seconds off lapping the bunch.
His team-mate Tom Moses wanted a one-two for JLT Condor, and attacked his two breakaway rivals Oliphant and McEvoy with three laps left.
While Briggs took a deserved win, fellow Yorkshireman and team-mate Moses made it a one-two for JLT Condor and Cornwall's Chris Opie took third for One Pro Cycling.
After the win, Briggs admitted: "It wasn't really my tactic to go out so hard from the start, but I felt really good for the first lap so I went straight away. Some riders were commenting on the wet, but I felt good on the corners and was going really low flying around them.
"I knew I was getting a gap and John [Herety, team manager] was telling me that the gap was going out, so I carried on pushing away.
"Tyre pressure is crucial on this type of circuit when it's a little bit greasy. When you're confident in your riding ability you can get round the corners quite fast. I don't think I would've gone quicker round the corners if it was dry. When it's wet you've just got to get stuck in.
"Me and John had a bit of an argument this morning, so I let the legs do the talking and pressed on hard and came out with the win!
"This is what you go out training for in the wet and all the hours in the saddle and sacrifices you make being away from your family, it makes it really special.
"I've slowly got better in the Series, I took a bit of time off after the Tour Series but came back and have got better and better."
Results
1 Graham Briggs (JLT Condor)
2 Tom Moses (JLT Condor)
3 Chris Opie (One Pro Cycling)