Great Britain Cycling Team rider Steve Bate is competing in this weekend's UCI Para-cycling Road World Cup. In the run-up to competition, he's written a guest blog. Part one looked at his journey from diagnosis to being on the verge of Paralympic selection. In part two, Steve looks at his current form and challenges.
Adam (my pilot) and I went from strength to strength in 2015 and results continued to improve. This just made me work that much harder and it paid off in our first world cup race of the season in Italy. On a scorching hot day, we secured a bronze medal in the time trial and two days later a silver in the road race.
We were disappointed with our efforts during a hilly world championships that year, finishing 5th in the time trial and 10th in the road race but it was a great experience to test ourselves against the best tandem bikes in the world on such a challenging course. We were selected to go to South Africa for the last round of the world cup and we struck gold together for the first time in the time-trial and then won bronze in the road race a couple of days later. With four world cup medals in six races, it had been a good season on the road.
At the start of this Paralympic year we were selected for the UCI Para-cycling Track World Championships in Italy. We posted the third fastest time in qualifying with a time of 4:16.555, breaking not only our national record but the sea level world record as well, although this was broken five minutes later by a strong Spanish pair. Then we lost the bronze medal ride off by a second to the Canadians which was devastating. However that's bike racing, you lose more races than you win and just have to find the positives and chalk it up as experience.
It was a great event for the team as we topped the medal table with Louis Rolfe coming away with his first set of rainbow stripes - something we all knew he was destined for. Megan Giglia also came away with two world titles and two world records in a remarkable display of track cycling. The other amazing ride was watching Jon Gildea in the scratch race ride his way to a silver medal in front of us and his parents. It's always motivating to see the people around you who work just as hard as you do succeed at the top level and have their moment and add their name to the history books.
In the next two weeks we will hear whether or not we have made the cut for Rio. It will be disappointing if I miss out but if I do, I can honestly look back and know I've given it everything. The main thing for me is knowing I've done the best I could. The only downside to being selected will be having some of my team mates miss out. These guys have been my family for the past three years and it seems so unfair that not everyone can go and have their time in the spotlight. They have been massively inspiring for me and have encouraged me to push myself as hard as I can to make them proud to call me a team mate.
Without the help and support of the staff team around me this simply would not have been possible either. With special thanks to my carer team Anouska Edwards, Eamonn Deane and Sally Barker for keeping my body in one piece and being there when sometimes you just need someone to talk to! All my coaches both past and present who have always been open to new ideas and keen to see the program improve for the athletes. And I can't let Mat Cox the mechanic go without a mention. Mat and the guys work so hard to ensure that my bike is in the best possible condition for racing.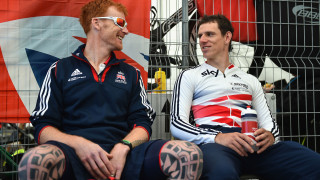 It hasn't been plain sailing and there is still so much I need to learn and do. If only there was another year! But I guess most athletes wish they had more time to prepare for the biggest show on earth.
British Cycling has now launched the Track2Tokyo talent search program with testing events taking place in July and October. If you have a disability and a willingness to do your best then please get in touch and maybe you could join this amazing team. I can promise you it will not be easy and it will push you to your limits but then the most worthwhile things in life are the ones you have worked the hardest for.