---
The sun shone for the Tyneside Vagabonds Go-Ride Games Cyclo-cross race at Thornyford Farm at Kirkley, Ponteland, and a warm welcome was made to the riders who came to race.
Over 30 riders attended and great fun was had by all. First off saw the under-12, under-10 and under-8 boys and girls race.
There was some tight racing in both the boys and girls races with Isobel Skinner taking the U8 Girls race and Joe Case taking the U8 boys. The U10 Girls race was won by Annie Johnson with Jamie Styles from Ponteland taking the U10 boys race. The U12 race was won convincingly by Joshua Williamson who went on to race the U14 event also.
In the U14 race it was a close battle between Josh Craven and Andrew Potter, but due to a chain slipping off for Craven it was a strong riding Andrew Potter who took win in the U14 race.
Josh Craven and Andrew Potter are ones to watch for the future and I am sure we will see them battling again at future races. Robert Laidlaw took the U16 race.
To round off a great day of racing it was over to the Adults race where Jo Reed rode a great race in her first cyclo-cross race to be crowned fastest woman.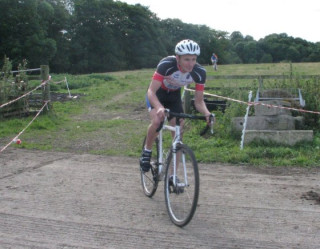 Alex McLean took the win in the men's event, but it was not an easy one as Adam Hogarth led the race from the start and looked very strong. When McLean passed Hogarth they raced hard for latter half of the race but Mclean proved stronger to take the win.
Results are available here
---
British Cycling would like to thank the organising team, officials and everyone else who helped promote this event. Our sport could not exist without the hundreds of people, many of them unpaid volunteers, who put in many hours of hard work running events, activities and clubs.