2012 UCI Cyclo-Cross World Championships
Day Two - Elite Women

---
Nikki Harris scored the landmark cyclo-cross result for Britain at the World Championships as she rode to sixth - a career best.

Nikki Harris jestures her best cyclo-cross result to date

Harris, who has been enjoying a breakthrough season and has become a regular fixture in the top ten of the World Cup standings went into the final lap with a chance of a medal and at times was three seconds off of a group fron which silver and bronze was decided.
However, a long chase to this point and a dropped chain at a critical moment was enough to keep the Briton - who rode lap one in 11th place - from joining Katy Compton, Sanne Van Passen and Sanne Cant.
At the front of the race Marianne Vos of the Netherlands successfully defended her world title, making it three wins out of three races so far for the Dutch team.
It was the other British competitor, Helen Wyman, who led the race for the first half lap as the field got off to a largely crash free start. One casualty was fancied American rider Katherine Compton, who hit a barrier and fell.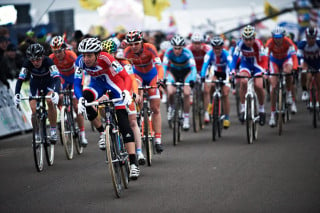 Meanwhile, at the head of the race, the Dutch riders were soon massing in familiar style and Vos was soon leading. Mid lap, she put in a couple of digs on the sandy climbs which are so characteristic of the course and she soon had a gap. By the end of lap one she led by 10 seconds from team-mate Van Den Brand, with another Dutch rider, Sanne Van Paassen in third. Wyman was 8th by this stage and Harris 11th.
Having broken free, Vos was never troubled again, extending her lead by some 10 seconds a lap for the first couple of laps, and rode a spectacularly uneventful race to win by 37 seconds. It was noticeable that, despite her slight frame, she was able to power further and faster through the sapping sand climbs and pits and she was clearly able to build a lead whilst taking few risks.
Behind Vos, there was a gripping battle for the remaining medals. Compton, having recovered from her crash, worked her way through almost the entire field to join Cant, Van Paassen and Van Den Brand in a talented chase group contesting second.
Harris was also making her way through the field with intent and when Compton began to pay for her efforts and dropped back to a lone fifth place, the British rider almost made contact with her. However, time was running out for both riders and they had to settle for fifth and sixth after highly creditable rides.
Meanwhile, Cant and Van Den Brand managed to detach themselves from Van Paassen mid-way through the final lap and although Cant led into the finish straight, she could not hold off the smaller Dutch rider who claimed the sliver by a wheel.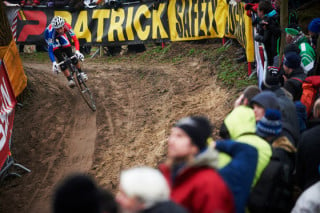 Helen Wyman came home in 13th place, having drifted back through the middle laps of the race before suffering a heavy fall when her front wheel dug in on a sandy drop and threw her over the bars.
Reflecting back on the race, it's sobering to think just how superior Vos is at the moment. There was effectively no "race" for gold: all the interest centred on silver and bronze and apart from the winner the field looked well matched. Vos will be looking to the Olympics and the Road Race now: however, her reputation as one of the greatest women endurance cyclist of all time was established some time ago. Enjoy her whilst you can – she is something special!
Results
1. Marianne Vos (NED)
2. Daphny Van Den Brand (NED) @ 00:37
3. Sanne Cant (BEL) @ 00:38
4. Sanne Van Paassen (BEL) @ 00:49
5. Katy Compton (USA) @ 00:53
6. Nikki Harris (GBR) @ 01:03
7. Sophie De Boer (NED) @ 01:05
8. Katerina Nash (CZE) @ 01:11
8. Jasmin Achermann (SUI) @ 01:12
9. Lucie Chainel-Lefevre (FRA) @ 01:54
Other
13. Helen Wyman (GBR) @ 02:45