| | | | | | | | |
| --- | --- | --- | --- | --- | --- | --- | --- |
| | Follow britishcycling.org.uk on | | | | | | |


Jack's Worlds
Junior Cyclo-Cross rider Jack Clarkson, from Halifax, has been one of the stand-out names of the 2010-11 season. A relative newcomer to cycle sport, and indeed cycling, Jack rode his first ever race in May 2009. After just over a year and a half of spectacular progress, the 17 year-old made his World Championship debut at St Wendal, in Germany last weekend.
Throughout the season, Jack's been sending in regular reports from his overseas racing trips with British Cycling's Junior Development Programme, which has been preparing some of the country's best young riders for the World Championships. This is Jack's spin on a weekend when he produced perhaps his best performance yet.
Jack in action in St Wendal
Any trip abroad starts with the riders setting off from their different corners of the UK. I travelled with a group which flew from Manchester out to Frankfurt Main airport. No sooner had we arrived than we encountered our first problem of the trip - one which looked like it take us a while to sort out! We went to pick up our hired 9-seater mini-bus, but quickly realized that, although a mini-bus was indeed waiting for us, it was actually 120km away at Frankfurt Hanz airport. And we couldn't get a replacement one at Main, as they had none left.
We were all wondering what to do and beginning to think about trying to find the cheapest taxi fares for the trip to Main, when Simon Watts came up with a brainwave - he decided to ask the advice of a member of the airport staff! In no time we were on a scheduled bus heading for the correct airport. On arrival at Frankfurt Hanz the minibus was waiting for us and we were soon off for a food stop.
Following the mini-bus issue, our late arrival at the airport meant all the sandwich shops were closed, but we managed to pile in to Burger King for what was going to be the biggest amount I have ever seen spent in a fast food store! With the grease settled in our stomachs we finally got to our hotel (approx 26km from course) and began to live the dream.
I awoke on the Thursday morning to a nice change of landscape, with stunning views of the rolling, snow-covered German hills above the valley. After a quick breakfast, it was time to get out on the road for an hour for a gentle spin, before back to the hotel for a spot of lunch. Whilst we were out, the mechanics took the opportunity to check through our kit and make sure our tubs were glued on correctly: however this took the three mechanics some time as there were approximately 150 wheels to go through!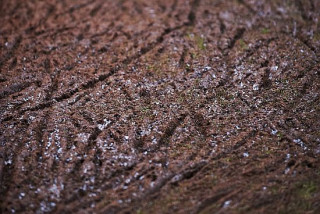 When muddy ruts freeze, you get something like this to ride over
After lunch, it was time to go and have a ride round the course and find out what we could have to fear on race day. On our first spin round the course together, we soon realised that it was going to be a mud-fest. However, news then reached us that this wasn't going to last, with freezing temperatures expected for the weekend.
We also noticed that there was plenty of climbing on the course, along with deep mud, steep descents and a tricky off-camber section shortly after a set of hurdles. Thursday's practice laps and training were soon over, however, and then it was time to put our feet up and chill once again, enjoy some dinner and then off to bed
Friday morning was the first time that virtually the whole team was together, with manager Phil Dixon and under-23 rider Kenta Gallagher arriving from a training camp. The day's schedule was a repeat of the Thursday for us, with the minus temperatures kicking in the only real difference.
After lunch, it was once again time to pre-ride the course. This time we did a little more experimenting with tire pressures etc. The conditions were very similar to the ones we were to race in. Finally, we wrapped up at the course and then it was time to leave for the hotel with all the pre-race preparations sorted.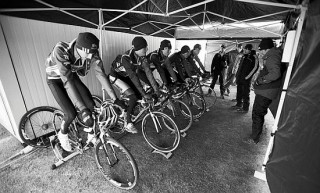 The team warm up under the watchful eye of team manager, Phil Dixon
Back at the hotel we had a good relax and met up the final member of the team Alistair Slater, who had flown in late after an exam back home: all us juniors were soon trying to pump fear into Alistair with our descriptions of the course and Kenta backed that up by telling him to watch out for the crocodile pit! We were looking forward to what was going to be a busy Saturday of keeping warm and staying calm before the race.
Race day dawned and, after a spot of brekky at the hotel, we jumped in the mini-bus and off we went down to the course, where Alistair had his first laps round the course and faced his demons......and the rest of us had our final practice laps. We soon noticed that a lot of the very rutty sections, left after the soft mud froze, had been levelled out, but a few rutty stretches were still there to challenge us.
Once our final ride round was done, we headed back to the team area to get changed and ready for the race: Si Watts kept us calm by telling us some really bad jokes - "did you hear about the magic tractor, it went down the hill and turned in to a field" - and Phil Dixon joined in, telling us we all looked "Factory".
Before we knew it, our warm-up had finished and the gridding had started. With myself gridded on the back row of the field, I knew it was going to be a very difficult challenge to make my way through the field, but with the pre-race advice that Simon had given me, I knew anything was possible.
The race began on a traffic light start: thanks to the previous trips BC had taken us on, we were all ready for this and were watching for the lights to change. Off we went and I tried to stay out of trouble and slowly pick off the riders one by one. We shot through the hurdles for the first time and then, on the off-camber section just afterwards, many riders were caught out and there was a large pile-up.
I noticed riders were beginning to queue up and wait to get by, but Cyclo-Cross is racing and I was not going to wait - I saw a gap along the top of the camber: only a few riders were taking this line and they were sliding back down the camber. However by carrying my bike in one hand and pulling myself through on the fence posts, I soon got past the blockage and found I had moved in to the top 40. I had also had moved past Luke Mellor, Joe Moses and Ali Slater, who got caught up in the crash. I then began to make me way through the field one by one, picking off riders and by the end of the first lap I had moved up to 25th.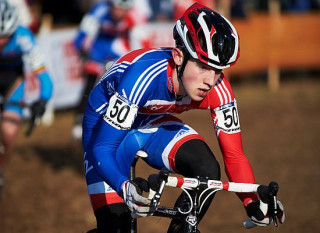 Jack gets stuck in mid-race on his way to 19th place
I continued to push hard and made my way up to about 15th place, but along the way I had a few little incidents that reminded me just how new I am to the sport: on the 2nd or 3rd lap I was going round a rutty corner just before the entrance to the pits when I got stuck in a rut and began to fight it, which sent me over the handlebars. Once I got up, it was a case of running straight in to the pits and picking up my second bike, as I wasn't sure if I had damaged my first bike. This dropped me back to about 17th, but I got back into a rhythm and continued to keep pushing.
On my 4th or 5th lap, I had another incident with a rut and hit a wooden stake, level with the pits, knocking the chain off. I managed to stay calm and fixed it and pushed on. After approx 500 meters I noticed I had a problem with my gears, due to the crash, so I shouted at Simon to let the mechanics know I was going to change bikes. I changed for a final time and gave it everything for the rest of the race to make my way up to 19th, with just 2 minutes 30 seconds separating me from the gold!
I realised afterwards just how much my little mistakes cost me, as with 2 laps to go I was only 30 seconds off a medal.
After a swift shower and change, it was time to watch Kenta have a great ride in the under-23 race, before returning to the hotel for our final night.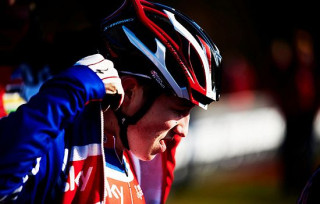 Post-race, covering up and keeping warm is the top priority
Sunday arrived and after packing up and checking out, we made our way back to the course where we joined the huge crowds and watched the elite women's and men's races, before flying back to the UK. Once again the weekend was a massive learning curve for myself, just as the previous trips to Europe this winter have been.
I would like to say a big thank you for all the opportunities British Cycling have offered me, through being on the junior development programme. I'd also like to say thanks to Mark at Pedalsport for his support and Sl Carbons for helping me with my wheel sets for the season and finally Specialized for the helmets and shoes. What a season!
More From Jack: Double Cross | Belgian 'Cross Weekend | Belgian Road Trip | Belgian Freezer