Nick & Phil's Three Peaks Tips
Feature: Eddie Allen
With the annual epic of the 3 Peaks Cyclo Cross race fast approaching (25 September), 'Cross lads and lasses throughout the land will be in a state of near frenzy, fretting over tyres, tactics and bogus last minute training advice.
However, help is at hand. Before the 2009 edition we caught up with off-road virtuoso and past winner of the event Nick Craig and asked him for his last minute top tips on how to survive and thrive on that fearsome trio of Yorkshire peaks.
At the other end of the athletic spectrum, BC's Phil Ingham has ridden the 'Peaks four times and usually finishes in the region of 4 and a half hours - which put him over and hour and a half behind the contenders and firmly in the middle of the huge bunch of riders for whom finishing the event, preferably with a smile on their face, is the main ambition. Phil's tips are aimed at this demographic!
Nick's Tips
Body
Arrive Fresh: That's bad news is that if you're not well on the way to being fit now, you've missed the boat. However, in the last few days before the race you should be tapering so you arrive totally fresh.
The Peaks places unusual demands on the body, especially in 'cross terms, where 1 hour of 'red-line' effort is the norm. The Peaks is like no other 'cross race. It's much more of an endurance effort, so you'll need to be fully carbo-loaded, rested and hydrated for your 38 miles of carefully metered effort.
Stretch: Before the start, make sure your calves are fully stretched. There's a hell of a lot of off-bike climbing in the event, the worst on the punishing first ascent of Simon Fell, where your calves will be taxed to the limit. Make sure you're nice and loose or you'll run the risk of muscle and tendon injury.
Bike
Gearing: Gearing choice can be crucial. The first two hills of Ingleborough and Whernside are all about pushing, carrying and climbing, but Pen y Ghent is more of a rider's climb, so a proper bottom gear of around 1:1 is a good idea.
Carrying drinks: Mount your bottle cage on the seat tube or use a hydration pack - either way it'll make your bike a lot easier to carry - which you'll be doing rather a lot.
Tyres: Lightweight cyclo-cross race tyres are a bad idea for the Peaks, where pinch punctures and sidewall rips are rife. Heavier duty hybrid tyres with a decent tread are the tyre of choice, even among top riders. Whatever tyres you have, run them at 70-80 psi to prevent pinch punctures - the trails that the Peaks uses are notoriously rocky with many sharp edges that you're likely to hit hard, especially on the descents.
Interrupter Levers: Secondary 'top' mounted brake levers are a real bonus, allowing you to get further back on steep descents, and crucially allowing you to stretch your neck and back.
What to take
All riders must take the mandatory survival kit specified in the race rules. On top of this, Nick takes:
* Multitool
* Powerlink
* Spare tubes
* Food
* Nick has helpers stationed at the foot of each hill, with spare wheels and bottles.
Tactics
Rule number one is not to blow it on the road sections between the hills. On the opening section between Helwith Bridge and Ingleborough, stay in the pack but begin to move forward through the pack as you approach the turn-off. You're onto doubletrack and then narrow trails very quickly and it will be hard to make up positions from here on in.
On the road sections, always ride in a group, even if you just pair up with another rider. This might mean making an extra effort to catch a group in front, or to drop back into a group behind. Whichever way, you'll save energy that you'll need on the climbs.
Elsewhere it's all about metering your effort. 38 miles might not sound long, but Nick assures us that these are like no other 38 miles you will ever ride. So think 'diesel' rather than hi-revving sports car.
Feeding
As with any endurance event, always drink and eat before you need to. Nick recommends taking on a bottle during the first road section and one at the foot of each climb, plus gels as and when required - at least 1 every 45 minutes.
Enjoy it and take care
Don't forget to have fun! The Peaks is a unique race on the calendar, run and organised in a traditional time honoured fashion, with huge camaraderie and set it stunning scenery. As Nick put it, "When you're on top of Whernside, you're on top of the world." Just take care on the descents and don't be tempted to ride stuff that's beyond your technical ability. Keep your head, even if all around you are losing theirs. Best of luck!
Phil's Tips
Get Used to Climbing Steep Hills:
Part 1: Forget running. The off the bike sections are so steep that you are effectively hiking. The first major ascent - Simon Fell, the gateway to Ingleborough - is 1000 feet of grassy moorland hillside. It's pretty steep and you'll find it an uncomfortable place to be unless you have prepared your legs for climbing at an angle where your heels can't touch down. It stretches the calves for a prolonged period and the damage it does to you can restrict your performance for the rest of the race. I practice walking up a local hillside which is at much the same angle - the fitness benefits are debatable, but the way it familiarizes my legs with climbing at a silly angle is priceless. Since introducing this to my preparation, I've suffered a lot less pain during this early challenge and a lot less cramp later in the event: try reps up and down a suitably steep hillside which takes perhaps 2-3 minutes to climb. Try it with your bike on your back too, as this will hone your carrying technique as well.
Part 2 - Stairway to Heaven. The second major ascent, Whernside, is similarly steep and long, but under foot it's very different: heavy trail maintenance has produce what is effectively a 1500 foot staircase of stone steps. So, I practice climbing steps - a local reservoir bank has a 250 foot stairway of concrete steps and I spend half an hour, two or three times a week for a month before the event, doing reps up and down the steps.
Food and Drink:
Everyone takes a different approach to nutrition and mine is not in the least bit scientific or modern, but it works for me. I don't recommend it, but merely share it with you as an indication of what my 12 and a half stone frame needs to keep it going. I eat and drink as follows:
Drink: I start the event with one 500ml bottle, in the down-tube bottle cage and aim to drink this over the first peak and exchange it for another at the Cold Cotes service area. Additionally, I drink perhaps 500ml of fluid from a second bottle at the service area. I repeat this process, drinking the bottle as I cross Whernside and exchange it for another at the Ribblehead service area. Again, I drink an additional 500ml of fluid at this point, whilst stationary. That's something like 2.5 litres of fluid. In addition, I take the time to drink at least one cup of water at the neutral service point just before you go onto Whernside. I usually try to grab a second, which probably take me close to 3 litres for the entire event. You could substitute 750ml bottles if you think you would need more. I prefer plain water, but obviously many will prefer to use sports drinks. I'm not a great fan of these, but accept that I'm in the minority on this point!
Food: I carry a banana from the start, which I eat over the first peak. I then pick up a packet of 6 oatcakes in a silver foil wrapper, for easy acces and a salty snack (crisps work for me, but again I accept that these are not the recommended refueling choice of the experts). I nibble the oatcakes as I go along for much of the rest of the race. I also eat an additional banana which I pick up at Ribblehead and eat on my way down to the final climb of Pen-y-Ghent. There's additional food available in my supporters' food bag, should I get hungry, but I rarely am.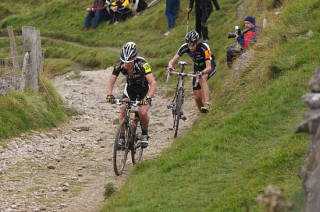 Nick Craig climbs to victory in 2009
Flat Tyres & Low Gears

Punctures: an inevitable part of the event. I've had four in four races. Practice changing a tube until you are very slick at it. I recommend carrying a CO2 canister and a couple of cartridges. Learn how to use this tool until you can trust it, as it will save you a huge amount of time. I also carry a mini-pump on the bike for back-up. I always have 2 spare tubes with me - have some spares with you support crew so you can replenish your stocks if necessary. Finally, carry your tubes and CO2 in your jersey pocket so you can get at them very quickly. There's nothing worse than digging for them in a saddle pack. Carry a lightweight tyre leaver too. In the saddlepack, I carry the second tube, a good multi-tool with a spare chain power-link (the quickest way to mend a broken chain is to ditch the damage links and re-join with a power-link).
Gears: I run an old triple on the front, minus big ring, giving me a 42 - 32 chainring combination. On the back I run a long LX mountain bike rear-mech and an11-34 cassette. This give me a low bottom gear to crawl up the lower half of Pen-Y-Ghent, which is rideable! For carrying comfort, I strap some foam pipe lagging round the angle between top tube and seat tube: B & Q must do great business on lagging just before this event!
Summary:
I accept my preparation and some of my nutritional and mechanical choices are a little eccentric. They work for me, but the point I'm perhaps trying to make is that this is an event where a little thought, a little innovation and a little eccentricity are acceptable. I also need to emphasize that my main aim is not performance based. I'm always keen to better my previous times, but my main goal is to enjoy one of the most remarkable events in cycling. It's super-tough, but it also, in the words of Wallace and Gromit, "A Grand Day Out!"