This weekend all eyes will be on the South of England Showground in Crawley for the 2022 HSBC UK | National Cyclo-cross Championships (8-9 January 2022). Here we've pulled together all of the key information you need on where to watch the action, who's riding and the course they'll do battle on.
Can I come to watch?
Few experiences can match watching live cyclo-cross racing, and best of all it won't cost you a penny, so bring the family and the dog and get right in the thick of the action!
Host club Crawley Wheelers have pulled together a great guide on their website here with tips on how to get to the venue and where to park, if you're arriving by car. There will be a number of food and drink outlets on site, including Belgian fries and hot chilli – perfect for the winter weather.
Please do not travel to the event if you have any symptoms of Covid-19 or are currently required to self-isolate.
Will the racing be streamed?
Yes! We're pleased to once again be working with our friends at Century TV to bring full live coverage of Sunday's racing, part of our long-term plan to take the sport to new and bigger audiences and get more people involved at all levels.
You can watch the action through British Cycling's YouTube channel, GCN+ and Eurosport Player, with the four broadcasted races starting at the following times:
· Junior Women – 10:00
· Junior Men – 11:15
· Senior and Under-23 Women – 13:00
· Senior and Under-23 Men – 14:45
A full schedule for the event can be found here, and we'll also be sharing updates throughout the weekend on our social media channels.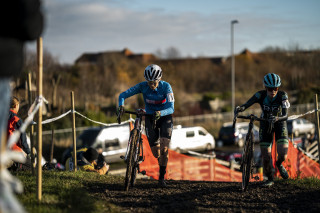 The course
The South of England Showground was originally due to host the 2021 championships, which were sadly lost to Covid-19, but the course is certainly one worth waiting for.
Packed full of features including hot dog turns, steep hills, a camber descent, hurdles, sand school and a bridge, there's plenty in there to test the skills of those vying for the national champions' jerseys. Find the full course map below.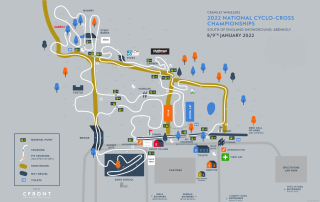 The riders
In total, 16 national champions will be crowned across the weekend, with categories spanning from Under-14s to 60+! Here are just some of the ones to watch. The full entry list for all categories can be viewed here.
Elite and Under-23
Reigning champion Hattie Harnden (Trek Factory Racing XC) will face stiff competition in the Elite and Under-23 Women's race, notably from Zoe Backstedt (Tormans-ACROG), who will ride in the
elite category for the first time, following a year in which the 17-year-old rider made headlines with stand-out performances in cyclo-cross, road and track.
Anna Kay rode to an impressive bronze medal in the under-23 race at the 2020 world championships, and is another rider with eyes on their first elite national champions' jersey, despite an injury-hit end to 2021.
Other names to look out for include national trophy series leader Amira Mellor (Spectra Wiggle p/b Vitus), winner of the December's national series round at Cyclopark Millie Couzens (Crelan-IKO), and Commonwealth mountain bike gold medallist Annie Last (SCOTT Racing). Josie Nelson (Team Coop-Hitec Products) won the national series round in Falkirk and was second in the national road race championship in Lincoln in October.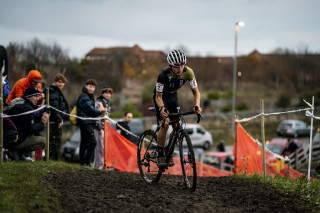 With Tom Pidcock (Team INEOS Grenadiers) not expected to defend his crown, the Elite and Under-23 Men's race is similarly wide open.
Cameron Mason (TRINITY Road Racing) was the winner in Gravesend last month, along with a Boxing Day World cup victory at Dendermonde, making him the man to beat.
Corran Carrick-Anderson (T-Mo Racing) has one victory and two second places to his name in this year's national trophy series and currently sits clear atop the standings, and has progressed rapidly since his third place finish in the junior national championships race in 2020.
Thomas Mein (Tormans Cyclo Cross Team) enters the championships off the back of some solid performances at world cup level, while Rory McGuire (Wheelbase CabTech Castelli) and six-time national champion Ian Field (Spectra Wiggle p/b Vitus) will also be in the hunt for podium places.
Junior
Having won all but one round of this year's national trophy series, Ella Maclean-Howell (Tofauti Everyone Active) will be tough to beat in the Junior Women's race.
Emily Carrick-Anderson (T-Mo Racing) will enter the race full of confidence after her victory in Gravesend, while Elizabeth McKinnon (Derwentside CC) and Libby Bell (Garden Shed UK-Ribble) have both put in consistently strong performances this winter.
Like Maclean-Howell, Nathan Smith (Garden Shed UKRibbleVerge) has been a dominant force in the Junior Men's category, and is currently on a run of four straight national series victories this season.
Ben Askey (Backstedt Bike Performance RC), Oliver Akers (Garden Shed UKRibbleVerge) and Bjoern Koerdt (Shibden Cycling Club) have all performed strongly this season too, while Max Greensill (Hope Factory Racing) will be looking to go one better than his second-place finish at Gravesend.
The full entry list can be viewed here.