Amira Mellor and Rory McGuire took impressive victories in the fourth round of the HSBC UK | Cyclo-cross National Trophy in Sunderland.
Riders were facing changeable conditions and an unfamiliar course at Herrington Country Park as they lined up for a challenging weekend of racing.
This was one of the most important weekends so far in the season. Amira Mellor looked to challenge for the series lead she had lost during international duties with Spectra Wiggle p/b Vitus, and Corran Carrick-Anderson hoped to extend his points advantage in the hunt for the men's trophy.
Mellor's dominant ride showed that the travelling hasn't affected her form as she powered to another solo victory with almost a minute in hand over the next rider, Abbie Manley of Montezuma's Race Team.
Anna Flynn (Edinburgh RC) had come into the race as series leader with Manley hot on her heels. After a fast first lap alongside Ruby Miller (Hope Factory Racing), Amira Mellor was on the defensive.
However, Mellor wasn't going to be distanced that easily. After two laps, she put in a scorching acceleration to light up the frosty winter air with the fastest lap of the race. She quickly built up her lead to take the win with a 58 second advantage.
Behind her, Abbie Manley and Alderney Baker (Team Empella Cyclo-Cross.com) had overtaken Flynn. Manley would take second on the day ahead of Baker, meaning she took the series lead as the riders leave Sunderland.
Meanwhile, a buoyant Mellor is already running the calculations to see if she can take the Series title in the remaining rounds.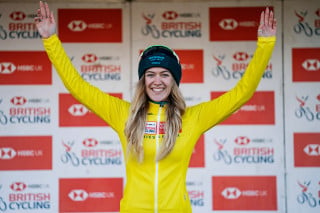 In the men's race, Corran Carrick-Anderson's (T-Mo Racing) charge for the series title has been boosted by his recent good form.
Setting off in the sun and finishing in freezing rain, the riders were committed even if the weather struggled to make up its mind.
Ian Field (Spectra Wiggle p/b Vitus) had come into the race tied for the series lead, but he was quickly on the back foot chasing Rory McGuire (Wheelbase CabTech Castelli), Daniel Barnes (Spectra Wiggle p/b Vitus), and Carrick-Anderson.
The gap between the leading trio and half a dozen chasers hovered around thirty seconds as they worked well together on a course that lent itself to prolonged efforts and fragile alliances. The leaders couldn't relax, but just how much they each had in reserve was exposed on the final lap.
Rory McGuire launched past the bell with an attack that forced the series leader to respond. As Carrick-Anderson dug deep, Barnes was under pressure, slowly losing touch with the other two riders. Undeterred, Carrick-Anderson fought his way back to McGuire.
Carrick-Anderson and McGuire came into the finishing straight together and, as they started their sprints, McGuire proved to be the strongest, taking the victory away from his breakaway companion by the smallest of margins.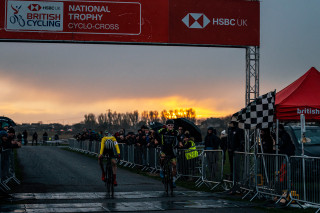 Barnes rolled in thirteen seconds later, while Ian Field could only manage fifth, meaning Carrick-Anderson has a healthier advantage in the overall series as they head to the next round.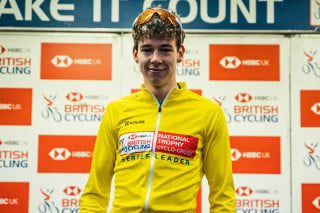 Juniors
Ella Maclean-Howell made it four from four for Tofauti Everyone Active in the junior women's race, showing yet again that she is the rider to beat. Maclean-Howell's stunning first lap laid the foundations for a 45-second victory.
Behind, Emily Carrick-Anderson (T-Mo Racing), Elizabeth McKinnon (Derwentside CC), Niamh Murphy (Montezuma's Race Team), and Libby Bell (Garden Shed UK-Ribble) worked hard to form a chase.
However, nothing could dent Maclean-Howell's lead and she celebrated ahead of Carrick-Anderson and McKinnon in second and third respectively.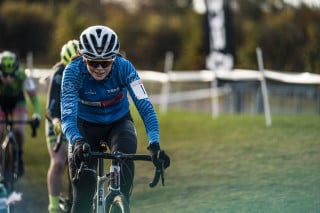 In the junior men's race, Garden Shed UK‐Ribble‐Verge Sport continued their good form, crowding the top steps of the podium.
Nathan Smith led from the gun and was fastest on all but one lap of the five-lap race. His lead was over a minute by the time he crossed the finish line for the final time ahead of his teammate, Oliver Akers.
Max Greensill (Hope Factory Racing) and Ben Askey (Backstedt Bike Performance RC) were left to fight it out for the final step of the podium in a two-man sprint. A headwind in the final few hundred meters meant that Askey was unable to come around Greensill, who would claim third on the day.
Men's U16
Sebastian Grindley (Garden Shed UK-SCOTT) took another victory ahead of Alfie Amey (DB Racing). He held a slim lead after the first few laps and held on to win by eight seconds. Nathaniel Henderson (Hetton Hawks Cycling Club) was edged onto the third step of the podium.
Men's U14
In a repeat of his earlier victories, Leon Atkins (Welwyn Wheelers CC) took an early 30-second lead that he steadily built upon until the finish line, winning by a minute over Albie Jones (North Cheshire Clarion). George Cooper (Sherwood Pines Cycles Forme) sprinted to third place ahead of his teammate Jacob Steed.
Women's U16
Cat Ferguson (Hope Factory Racing) continued her dominance in the women's U16 race. She accelerated away from Imogen Wolff (Shibden Cycling Club) on the second lap and quickly built an unassailable lead. Behind, Florence Greenhalgh (Paul Milnes ‐ Bradford Olympic RC) held off Mia Rutterford (Iceni Velo) to claim the final step on the podium.
Women's U14
Zoe Roche of WXC World Racing took the win in the women's U14 race ahead of Aelwen Davies (Velo Myrddin CC p/b Y Beic) and Daisy Wilkinson (Edinburgh RC). She attacked on the final lap and her lead had grown to fifteen seconds by the time she crossed the finish line.
Women's Veterans 40-49
Ceris Styler (Backstedt Bike Performance RC) was back to her imperious form in the women's veterans 40-49 category. She beat Kate Eedy (Team Empella Cyclo-Cross.com) and Lucy Siddle (Reifen Racing) by 90 seconds, leading from the very first lap.
Women's Veterans 50-59
Catriona Ross (Bridport CC) finished twenty seconds ahead of Helen Pattinson (Montezuma's Race Team) to win the women's veterans 50-59 category. Meanwhile, Isla Rowntree (Islabikes) battled to third place a further sixteen seconds back.
Women's Veterans 60+
Nicola Davies (www.cyclocrossrider.com) took the win in the 60+ race ahead of Carolyn Speirs (Kendal Cycle Club) and Karen Payton (Cycle Sport Pendle) with time to celebrate the victory.
Men's Veterans 40-49
Paul Oldham (Hope Factory Racing) and Adrian Lansley (Pedalon.co.uk) went first and second yet again, this time with Oldham taking the victory by 45 seconds after breaking away early on. Paul Lloyd (Banjo Cycles/Raceware) came in alone to take third place.
Men's Veterans 50-59
Nicholas Craig (SCOTT Racing) rode to victory over Mike Simpson (Beeline Bicycles RT) in the men's 50-59 veteran race. A slow start from Craig was rectified by consistently faster lap times across the remaining race and he would go on to win with a comfortable margin. Behind, Murray Swanson (Livingston Cycling Club) edged out Daniel Alexander (www.Zepnat.com RT) for third.
Men's Veterans 60+
Robin Delve (Mid Devon CC) took the win ahead of John Galway (Richardsons Cycle Club) and Colin Blacklock (Muckle Cycle Club), with the trio proving to be the strongest by a two minute margin over the course of the race.
Podiums
A full list of podium placings is below:
Elite women
Amira Mellor (Spectra Wiggle p/b Vitus)
Abbie Manley (Montezuma's Race Team)
Alderney Baker (Team Empella Cyclo-Cross.com)
Elite men
Rory McGuire (Wheelbase CabTech Castelli)
Corran Carrick-Anderson (T-Mo Racing)
Daniel Barnes (Spectra Wiggle p/b Vitus)
Under-23 men
Rory McGuire (Wheelbase CabTech Castelli)
Corran Carrick-Anderson (T-Mo Racing)
Daniel Barnes (Spectra Wiggle p/b Vitus)
Under-23 women
Abbie Manley (Montezuma's Race Team)
Alderney Baker (Team Empella Cyclo-cross)
Anna Flynn (Edinburgh RC)
Junior women
Ella Maclean-Howell (Tofauti Everyone Active)
Emily Carrick-Anderson (T-Mo Racing)
Elizabeth McKinnon (Derwentside CC)
Junior men
Nathan Smith (Garden Shed UK-Ribble-Verge Sport)
Oliver Akers (Garden Shed UK-Ribble-Verge Sport)
Max Greensill (Hope Factory Racing)
Men's U16
Sebastian Grindley (Garden Shed UK-SCOTT)
Alfie Amey (DB Racing)
Nathaniel Henderson (Hetton Hawks Cycling Club)
Men's U14
Leon Atkins (Welwyn Wheelers CC)
Albie Jones (North Cheshire Clarion)
George Cooper (Sherwood Pines Cycles Forme)
Women's U16
Cat Ferguson (Hope Factory Racing)
Imogen Wolff (Shibden Cycling Club)
Florence Greenhalgh (Paul Milnes - Bradford Olympic RC)
Women's U14
Zoe Roche (WXC World Racing)
Aelwen Davies (Velo Myrddin CC p/b Y Beic)
Daisy Wilkinson (Edinburgh RC)
Women's Veterans 40-49
Ceris Styler (Backstedt Bike Performance RC)
Kate Eedy (Team Empella Cyclo-Cross)
Lucy Siddle (Reifen Racing)
Women's Veterans 50-59
Catriona Ross (Bridport CC)
Helen Pattinson (Montezuma's Race Team)
Isla Rowntree (Islabikes)
Women's Veterans 60+
Nicola Davies (www.cyclocrossrider.com)
Carolyn Speirs (Kendal Cycle Club)
Karen Payton (Cycle Sport Pendle)
Men's Veterans 40-49
Paul Oldham (Hope Factory Racing)
Adrian Lansley (Pedalon.co.uk)
Paul Lloyd (Banjo Cycles/Raceware)
Men's Veterans 50-59
Nicholas Craig (SCOTT Racing)
Mike Simpson (Beeline Bicycles RT)
Murray Swanson (Livingston Cycling Club)
Men's Veterans 60+
Robin Delve (Mid Devon CC)
John Galway (Richardsons Cycle Club)
Colin Blacklock (Muckle Cycle Club)