The second round of the HSBC UK | National Trophy series heads north this coming weekend to Cumbria and a debut series venue appearance at the Westmorland Showground.
A fast, flowing, compact course that has been designed to offer some close racing for all categories is promised, featuring off camber descents and a number of slow, heavy grass cambers that should spread the fields out enough to ensure clean racing.
Senior Men
A number of the riders who dominated at round one won't be in attendance this weekend, so Neon Velo's Ian Field starts as favourite in the Elite men's race. Field, who took his sixth consecutive Trophy title last season, was the second highest-placed British rider in the opening round at Derby, and showed all the signs that he is well capable of earning anotherseries win with an impressive ride to 7th place.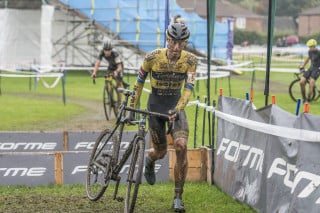 He won't have an easy day out though, as a raft of under 23's are looking to challenge him, and eager to upset proceedings. Lewis Askey (Zannata Ride Coventry XGear) didn't compete at round one due to his involvement at the UCI Road World Championships, but he did attend the race and was clearly keen to get involved in the action for round two, so will be a good bet to influence the outcome. Other contenders are likely to be Toby Barnes (RST/Cycle Division Racing Team), who finished one place behind Field at Derby and is well capable of a podium place, with Callum Macleod (Canyon DHB p/b Bloor Homes) also capable of pulling a surprise result.
Junior Men
Another big field takes to the start in the junior men's race which arguably could be the closest contest of the weekend with no clear favourite. Rory McGuire (Leslie Bike Shop/Bikers Boutique), who rode away in the closing laps at Derby to take the win, will be a marked man this time out and will have to be on the ball to fend off the likes of Simon Wyllie (Halesowen A & CC) and Dan Barnes (Garden Shed UK‐SCOTT‐Verge Sport) who took second and third respectively in the opening round.
Corran Carrick-Anderson (Peebles CC) had to be content with fourth after crashing on the final bend at Derby and will be looking to make amends, as will Joe Pidcock (Fensham Howes ‐ MAS Design), who this time out looking will be looking to avoid a start line crash and is well capable of a podium place.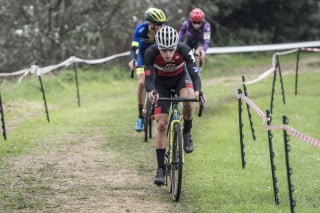 Senior Women
As in the men's race, the continental riders who finished first and second in round one of the elite women's series are absent from round two. Ffion James (Hope Factory Racing) is no stranger to Trophy series wins and will certainly be towards the sharp end of the race from the gun but Anna Flynn (Edinburgh RC), who took a fine third place overall at Derby, once again heads up a strong threat from the junior and under-23 ranks and will certainly give James an uncomfortable race.
Sophie Thackray (SCOTT Racing), Katie Scott (Garden Shed UK‐SCOTT‐Verge Sport) and Fiona Turnbull (Slingshot) who comprised the under-23 podium at round one are all in action again, but with Hattie Harnden (T-Mo Racing) returning for her first start of the series, the result could go one of many ways as Harnden has form for riding through the entire senior and under-23 fields, even when she started as a junior.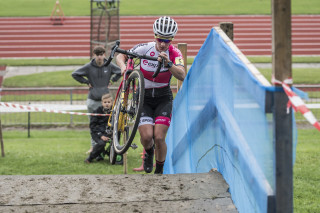 Veterans
Saturday's opening day of round two once again sees the biggest fields of riders competing as the veteran and youth categories take to the line, and as at round one, some of the most exciting wheel-to-wheel action is likely to take place in these categories.
First up are the veteran 50 men and, with a number of the podium finishers from round one not in action at round two, the door is open for others to take valuable series points. Expect Nick Craig (SCOTT Racing) to renew his battle with Tim Davies (CC Abergavenny/JP Signs & Print) close to the head of the field, with Mark James (Dream Cycling) also likely to be in close attendance.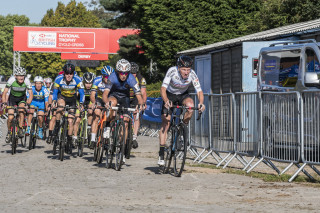 Impressive round one winner Pete Harris is not on the entry list for round two in the veteran 60+ category so it's anyone's race. Expect to see Robin Delve (Mid-Devon CC) and Barry Kippling (MTS Cycle Sport) vying for the podium places, while Adrian Lansley (Pedalon.co.uk) will be looking to defend his series lead after an impressive off-the-front victory at Derby in the veteran 40+ category and starts as favourite here, despite another hugely competitive field looking to topple him.
The veteran women's division saw two of the most exciting races of the weekend at round one and it's great to see all the major protagonists on the entry list for round two, where the action looks to be every bit as hotly-contested. Kate Eedy (Team Empella Cyclo‐Cross.Com) scored a memorable win on home turf at Derby, and here a number of other riders, led by Helen Pattinson (Hargroves Montezumas) will be gunning for her in the veteran 40 category.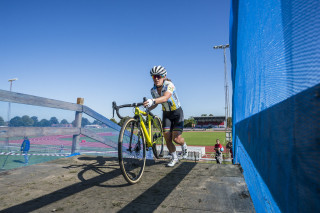 Given Maddie Smith's (Bolsover & District Cycling Club) dominant form in the veteran 50s race at round one it would seemingly take a very special effort for anyone to overcome her here. However, in the veteran 60s division a titanic head-to-head saw world champion Nicola Davies (www.cyclocrossrider.com) narrowly prevail over Sally Reid (Magspeed Racing) and we could well be treated to another similar battle this weekend as the two are both down to start.
Youths
The future of the sport was extremely well represented in Derby with a series of high quality, competitive under-16 and under-14 races. With riders moving up an age category, the story of the day was strong first years coming through from the rear of the grid to contest, and even win, races. This time out those riders will be gridded much higher so will be looking for less stressful opening laps.
Ride of the day at round one went to Max Greensill (Hope Factory Racing) who, as a first year under-16, stormed through the field from a grid position of 63 to win the race. That kind of form suggests that with a more competitive grid position, he's the man to beat at round two.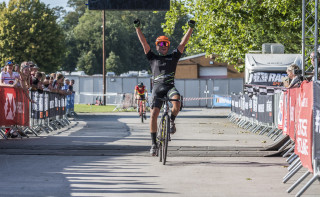 The under-14 boys provided the best race of the day at round one as well as the closest finish, as a group of four riders off the front of the bunch eventually resulted in a straight two-up, head-to-head sprint over the line with Alfie Amey (DB Racing) winning his maiden series round by the tiniest of margins over Sebastian Grindley (North Cheshire Clarion). The pair are both down to start this weekend so we expect more of the same but in a massive field of riders any number of challengers will be looking to get in on the action.
The under-16 girls' division didn't see the expected domination of Zoe Backstedt (Storey Racing) as she was taken deep into the last lap by a mightily impressive ride from Cardiff-Jif's Ella Maclean-Howell. Backstedt did eventually emerge the winner but will be more mindful of the threat this time out. Only slightly further back, a host of incredible rides from way back on the grid by a number of first year under-16s suggests that at round two, a number of them will be challenging for podiums from higher grid positions. Look out for Libby Bell (Leicester Forest CC), Niamh Murphy (Pedalon.co.uk), Emily Carrick-Anderson (T-Mo Racing) and Hope Inglis (Team JRC) to all be up in the mix.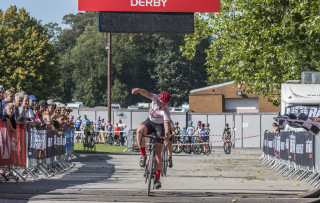 A controlled and impressive solo ride saw Carys Lloyd (VCL) take victory in round one and she starts as favourite here. The main challenge could come from her own team-mate Lucy Wollaston who has been on a rich vein of form since coming third at round one with a string of victories in both Central and South Eastern league races in the intervening weeks. Lucy Glover (Derwentside CC) was mightily impressive in splitting the two on the podium last time out and, being much closer to home, will be looking to go one better at Westmorland.
Results will be displayed with lap times after each race here.
For regular, live updates over the weekend, follow the HSBC UK | Cyclo-Cross National Trophy Twitter account @NatCXTrophy.
Series Standings after Round One