Nikki Brammeier fought a hard and muddy race to finish fifth at the final round of the Telenet UCI Cyclo-Cross World Cup in Hoogerheide, Netherlands.
Crowned national champion two weeks ago in Kent, Brammeier showed that she's impressing with her current form going into the UCI Cyclo-Cross World Championships in Bogense, Denmark next weekend (2-3 February).
Avoiding the pits on lap two and a surge to the hurdles saw Brammeier take the lead in a world-class group of four including Marianne Vos, Sanne Cant and Lucinda Brand.
Brammeier firmly in her sights, a dogged attack by Brand split the group. Brammeier found herself chasing, following Vos for fourth, both finally grabbed a clean bike from the pits for the final lap.
Brammeier managed to work her way back to the wheel of Vos and Cant who were jostling for the bronze medal, however a closing of the metaphorical door on the outside by Vos meant Brammeier couldn't take her preferred line into the mud and had to fight to get the wheel once again.
The Mudiiita rider said after, "After a couple of laps I managed to get to the front of the race and then we were really started fighting for those top positions, Lucinda [Brand] put in a strong attack and then we were fighting for those next spots.
More than happy to be in the mix today, a few silly mistakes in the last lap, lessons to learn. Always. Fire fuelled and ready for those world championships.https://t.co/qeEQCpsmu4

— Nikki Brammeier (@NikkiBrammeier) January 27, 2019
"I felt really good today, and it was really close with myself Sanne [Cant] and [Marianne] Vos in those last sections. I made a couple of mistakes, but it shows I'm in good condition and I'm looking forward to some tapering this week before worlds. It's given me a lot of confidence and I'm ready to put up a fight next week."
Lucinda Brand (Netherlands) took the gold, Katherine Compton (USA) silver and Vos (Netherlands), the eventual bronze medal winner. Cant finished two seconds ahead of Brammeier in fourth.
The other British contenders fought hard Helen Wyman finishing 12th and Beth Crumpton 38th. In the Under-23 competition, Anna Kay finished 13th, Hattie Harnden 15th (4th Junior) and Ffion James 16th.
Highest placed British under-23 Kay said, "It was a hard course, it changed a lot even from practice in the morning to the race. It was a hard day for me but I found my feet towards the end and it was nice to ride in some proper mud again!
"The course was super tough; the hurdles were massive, it was properly one of the toughest [courses] this season. I've had a few hard weeks so with a bit of rest up to worlds, I should be feeling fresh, I'm looking forward to it."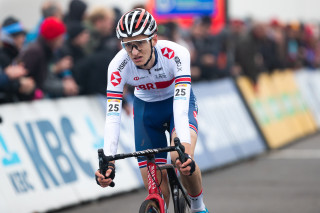 Ben Turner shines in the mud
Turner (Corendon–Circus), second in Kent at the 2019 HSBC UK | National Cyclo-Cross Championships two weeks ago, claimed his first UCI Cyclo-Cross World Cup podium of the year in Hoogerheide finishing third.
The 20-year-old has had an impressive season with his new team, finishing fourth earlier in season at Koksidje and fourth at the 2018 UEC European Cyclo-Cross Championships.
After the race, he said, "It was a very good day for me, at the start I wasn't feeling incredible as I just came back from a hard training camp. But with 3 laps to go I started to feel better and moved up into 5th then 3rd on the last lap and almost second."
The Yorkshire born rider finished just two seconds behind second place Antoine Benoist (France), with the impressive Belgian, Eli Iserbyt winning the race.
"I felt good in the build-up so I knew anything could be possible, next weekend is the biggest race of the year and I'm hoping for a great day, I believe I'm capable of a good result in Denmark," added Turner ahead of next week's World Championships.
The overall Men's U23 World Cup competition was won by Britain's Tom Pidcock last Sunday in Pont-Chateau in the penultimate round.
The other British results in the men's field saw, bronze medallist at the national championships, Thomas Mein take 12th, Cameron Mason 27th and Dan Tulett 32nd. In the Elite men's competition Ian Field finished 53rd.
In the junior men's race Lewis Askey finished 22nd, Oliver Draffan 26th, Rory McGuire 28th, Ben Tulett 35th and Simon Wyllie 53rd.
Full Results can be found here.