British Cycling is pleased to announce that Cyclopark in Gravesend, Kent, will host the 2019 HSBC UK | National Cyclo-Cross Championships from 12-13 January 2019.
We have also announced the six host venues for the 2018/19 HSBC UK | Cyclo-Cross National Trophy series. The series begins at Moorways, Derby, on 6-7 October 2018 and concludes at Shrewsbury Sports Centre on 5-6 January 2019, and will this year incorporate three new venues: Irvine Beach Park, Scotland; South of England Event Centre, Crawley; and York Sport Village, York.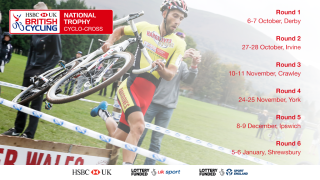 Cyclopark – staging the national championships for the first time - hosted round four of the 2017/18 HSBC UK | Cyclo-Cross National Trophy series in November.
The 2018 HSBC UK | National Cyclo-Cross Championships took place last weekend in Sunderland's Hetton Lyons Country Park, with the event streamed live for the first time in partnership with BBC Sport. The event – described as a 'real community effort' – was a great success, thanks to the tireless efforts of the host club, supported by local volunteers and officials and the crowds who came out to watch.
Helen Wyman took home the national champion's jersey for the tenth time in the elite women's category, while Grant Ferguson was victorious in the elite men's race.
Jonny Clay, British Cycling's director of cycling, said: "Holding the fourth round of this year's HSBC UK | Cyclo-cross National Trophy Series at Cyclopark proved to be a great success with riders and spectators alike, and we're delighted to be able to return there next January for the showpiece event of the national cyclo-cross calendar.
"The popularity of the discipline continues to grow here in the UK, underpinned by the great work of leagues up and down the country, and we're sure that next year's championships will help to inspire even more prospective riders to get involved."
2018/19 HSBC UK | Cyclo-cross National Trophy Series
Round one: 6-7 October 2018
Moorways, Derby
Round two: 27-28 October 2018
Beach Park, Irvine
Round three: 10-11 November
South of England Event Centre, Crawley
Round four: 24-25 November
York Cycle Sport, York
Round five: 8-9 December
Trinity Park, Ipswich
Round six: 5-6 January
Shrewsbury Sports Centre, Shrewsbury
2019 HSBC UK | National Cyclo-Cross Championships
12-13 January
Cyclopark, Gravesend