| | | | | | | | |
| --- | --- | --- | --- | --- | --- | --- | --- |
| | Follow britishcycling.org.uk on | | | | | | |

Bikeability - Easter at Eastlands
Posted: 28th April 2011
Report and Images: Eddie Allen
As the UK enjoyed balmy Easter holiday weather, children from in and around Manchester had the opportunity to take part in a three-day British Cycling Cycle Training and Go-Ride coaching programme in the fantastic location of Manchester City FC's Eastlands stadium.
Delivered by British Cycling qualified coaches, the first two days of the programme focussed on Cycle Training, with children covering Bikeability Levels 1 and 2. Level 1 focuses on basic bike handling skills such as braking, balance and steering, all in a traffic-free setting, while level 2 training takes learners out onto the road and begins to equip riders with the skills to negotiate quiet roads and basic junctions.
The programme attracted a wide range of ages and abilities, with some of the older children progressing to Bikeability Level 3, which offers tuition in negotiating more complex junctions and multi lane roads. Amidst honing their cycling skills, the children also took time out for a tour of the mighty and impressive Eastland's stadium as well as an audience with none other than Blues' mascot, Moonchester.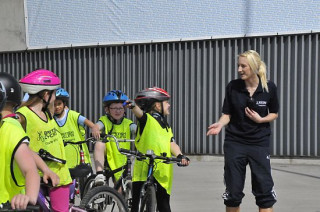 Under sunny skies, the final day of the programme gave riders a taste of Go-Ride coaching, where the riders were split into age/ability groups and were coached on balance, coordination, braking, cornering and group riding. Clearly a hit with the children taking part, the learning was set in the context of fun games and mini races, which produced big smiles and enhanced skills in equal measure.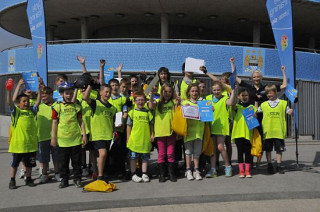 The three-day programme finally culminated in a prize presentation, when riders were presented with their certificates of achievement and goodie bags before heading home, hopefully happier, more skilful and more competent cyclists.
Links
Info: Go-Ride
Info: Cycle Training