| | | | | | | | |
| --- | --- | --- | --- | --- | --- | --- | --- |
| | Follow britishcycling.org.uk on | | | | | | |
Cycle Speedway Weekly Reports
Reports and results week ending 17th July 2011
---
South West League
Poole v East Newport
Report: Graham Sutton
Images: John Burge
POOLE 84 EAST NEWPORT 83
Above: Speedway is my aeroplane - An East Newport man nosedives into the shale.
How Poole managed to win this match was almost beyond comprehension as they gifted their visitors with point after point as they picked up five exclusions in the first twelve races. Unsurprisingly the Welsh side found themselves 9 points ahead after 6 heats with Sam Hearn having been ruled out twice for Poole with tapes infringements. The hosts had a glimmer of hope in heat 8 with a 6-3 win before a bizarre pre-interval heat which saw first Matt Mildon excluded for crossing the white line then the Welsh duo of Correy Jones and Matt Davies ruled out for moving at the start. Aaron Smith completed a solo lap for a 4-0 moving the half time scoreline to 39-41.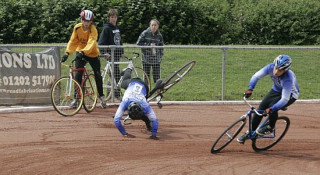 Above: Another graceful dismount, this time from Poole
Three races later and yet another Sam Hearn tapes exclusion saw the score move to 51-58 and the league points looked destined to return to Wales but Matt Mildon suddenly sprang to life teaming up with Chris Shylock for a 7-3 max. Two more races and the Poole deficit was back to five as Ben Mould cruised to his fourth straight win. The topsy turvey match saw Mildon and Hearn take another maximum in heat 16 after a costly Dan Bock tapes offence and the match score was now level at 74-74.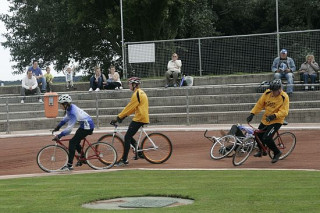 Above: An East Newport rider takes evasive action as another Poole man hits the shale.
Completion of his 20 point maximum by Ben Mould in the penultimate heat was no surprise but a valuable 3rd place from Correy Jones was crucial to give East Newport a two point lead with one race to go. A share of the spoils in the final race would given them the points but a hotly contested exclusion to Rob Absolum swung the match back in favour of the Seaview side with a match winning 6-3. In 72 laps of racing, Poole only held the match lead for just two - but they were the two that mattered.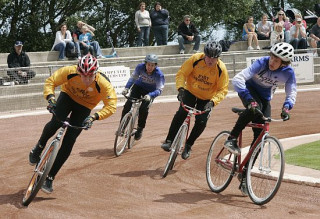 Above: Great image from John Burge and all four riders oblige by staying upright.
Division 1
Poole 84: Ben Donohue 15 Arron Morgan 15 Chris Shylock 15 Matt Mildon 12 Luke Armes 9 Will Bristow 7 Sam Hearn 6 Aaron Smith 5
East Newport 83: Ben Mould 20 Aaron Hughes 18 Dan Bock 13 Aaron Herbert 9 Matt Davis 8 Corey B Jones 8 Rob Absolum 5 Jason Cutler 2.
Referee - Mike Legge
Conference
Poole 75: Dean Hook 16 Matt Mildon 14 Will Bristow 14 Aaron Smith 12 Jay Briggs 10 Kristina Mines 9 George Newman dnr
East Newport 74: Aaron Hughes 14 Dan Bock 14 Josh Davies 13 Corey B Jones 13 Etan Greenslade 12 Jason Cutler 8
Referee - Dave Newman
---
Manchester League Grand Prix
13th July 2011
Report: Mike Hack, Astley & Tyldesley CSC
Bury hosted Round 5 of the Manchester League Grand Prix series at Goshen on Wednesday evening. Missing several riders, Stockport's unbeaten run came to an end, as they were beaten by Bury in the Division 1 (senior) match and by Astley & Tyldesley in the Division 2 (junior) match.

A & T's Adam Turnbull raced to a 16 points maximum in the U-10s match, as did his team mate Adam Phillips in the U-13s event. Stockport's Jake Read rode unbeaten in the U-16 category, whilst his team mate Ben Higham top scored in the U-19 match, losing only to A & T's Luke Jamson in heat 3. Bury's Ben Scranage raced to a 16 points maximum in a very entertaining senior match.

Manchester League Division 2 match result (top 5 scorers only count from each team)
Astley & Tyldesley 71 Stockport 67 Bury 40
U-10s: Adam Turnbull (A & T) 16, Max Evans (A & T) 13, Kieran Smith (Stockport) 13, Thomas Whitwam (A & T) 12, Millie Turner (Stockport) 9, Matthew Snell (A & T) 9.
U-13s: Adam Phillips (A & T) 16, Reece Pollitt (A & T) 13, Matt Turner (Stockport) 11, James Elston (Bury) 10, Callum Smith (Stockport) 10, Adam Watson (Bury) 10, Kyle Kelley (Bury) 5, Sam Vaughan (Bury) 4.
U-16s: Jake Read (Stockport) 16, Joe Pickford (Stockport) 12, Will Evans (Bury) 8.
U-19s: Ben Higham (Stockport) 15, Luke Jamson (A & T) 13, Laura Watson (Bury) 6, Vicky Brown (Bury) 6.
Referees - Stuart Howarth (Bury) and Mike Hack (Astley & Tyldesley).
Manchester League Division 1 match result (top 5 scorers only count from each team)
Bury 54 Stockport 44 Astley & Tyldesley 16
Seniors: Ben Scranage (Bury) 16, Terry Norman (Stockport) 15, Neil Howarth (Bury) 13, Ben Higham (Stockport) 12, Paul Dyson (Bury) 11, Jake Read (Stockport) 10, Steve Ward (Bury) 9, Adam Phillips (A & T) 8, Luke Jamson (A & T) 8, Joe Pickford (Stockport) 7, David Renc (Bury) 5.
Referee - Mike Hack (Astley & Tyldesley).
The 6th and final round of this series takes place at Stockport on Wednesday 27th July. Registrations are at 7 pm.
---
Norwich v Great Blakenham
16th July 2011
Report: Glenn Grange
The very best in Regional Cycle Speedway was fought out between two of the South-East's Regions leading clubs, namely Norwich 'Stars' and Great Blakenham at Eaton Park on Sunday.The racing surface held up well and produced some exciting racing as Norwich maintained their lead at the top of the South-East League Division 1 writes Glenn Grange.
Throughout the first half, neither side were able to dominate as first of all Great Blakenham took the lead and then in the next race, Norwich re-took the lead. The racing was tough and hard, and after a series of shared scoring heats, the score at the interval was Norwich 46, Great Blakenham 44. Last seasons Division 1 League Champions were not going to give up without a fight, and back came the Suffolk village side in Heat 12, scoring their first maximum heat win of the match (59 - 61). Norwich then took advantage of a weak Great Blakenham pairing in Heat 14 when they roared to their second maximum heat win of the match by James Wakefield and Dan Chambers to take the lead (71 - 68), and another maximum heat win in Heat 16 all but wrapped the match up for Norwich from the Josh Colby / Ian Grange pairing (83 - 76). Great Blakenham briefly rallied in the next heat, but by then it was over bar the shouting as Norwich finished the better, going on to win in the end by 93 - 87. The leading Norwich points scorers were Josh Colby 13+2, Leigh Cossey 13+2 and Ian Grange 12+4. For Great Blakenham, Adam Peck scored 20 points, Lewis Osborne 20 and Chris Osbourne 18.
In the South-East League Division 2 match, Norwich were never in trouble as they overcame bottom of the table Great Blake ham 'B' side quite easily. Three early first half maximum heat wins set the young Stars side on their way, and after 8 heats, Norwich led by 50 - 30. Much more of the same came in the rest of the match, which was marred by a nasty looking fall from Rohan Ewbank as he battled against both Great Blakenham riders as they went down the back straight. As a result, Rohan withdrew from the rest of the match as Norwich registered a match score of 97 - 63.
On Wednesday evening at Harford Park, the Norfolk Under 10 Riders Championship was staged with 9 riders taking to the track. There was some interesting racing, with some of the new riders only having raced in the weekly Practice sessions. Nevertheless, all the riders gave their very best and over the 14 heats, Mason Parkins of Norwich came out on top, with Hethersett's Tyler Matthews finishing second and Owen Wells of Norwich finishing third.
Fixtures this weekend has the British Under 19 Riders Championship being held at the Whitton Sports Centre in Ipswich on Saturday, and the South-East Under 10's and Under 14 Fouers being held at Ipswich on Sunday starting at 2 pm.
---
Heathersett Success at British Youth and Junior League
Report: Mel Perkins
HETHERSETT HAWKS / SWINTON & CO had three members racing in the Grand Prix series of the Wosskow Brown British Youth & Junior League. The older age groups were held at Swindon where the track was sticky and bumpy after heavy rain. Olly Buxton got two second places in his U16 heats. His total of nine points was enough to make the D Final which he led in the early stages but, after being passed, protected his second place well.

Tiffany Collins was racing in the very competitive girls category - 19 girls providing some great racing with the track drying out. She achieved two wins and two seconds in the heats to score 14 points and gain a place in the A Final. This was rerun after a rider was excluded bringing down two riders, including Tiffany. At the second attempt Tiffany was beaten from the start but quickly made a pass to hit the front and race away to win the girls event for the day and give herself a great chance of retaining her title with three rounds to go.

Over at Horspath near Oxford the drainage worked well and the track was good for Jasmin Matthews to have her first test on the national stage in the u12s. Three tough rides amassed only four points from a lot of effort but in her final race she sped away from her three girl opponents and kept her nerve to reach the chequered flag first. A total of eight points was a fair reward but insufficient to make the finals with only half the 31 riders getting through.

Jasmin's brother Tyler was in outstanding form in the Norfolk U10 Championships at Harford Park. The 8-year-old showed brilliant tactical skill to come from last to first in one race and his 15 points gave him runners-up position on the podium. Ayrin Larter raced in her first competitive match and showed tremendous determination. 13 points took her into a race-off for third place. She fell heavily trying too hard to make an impossible pass but picked herself up for the rerun. The fall had taken its toll and she had to be content with fourth place overall - not a bad start to a career.

This Saturday the Club has riders in the British U19 Championships and Women's League event at Ipswich and the Club's U10 an U14 teams are back there on Sunday.
---
Sandwell v Wednesfield
Report: Roger Beaman
Wednesfield won the toss, and took gate 1 and 3, and then set about winning the match, they went into a 4 point lead in heat two, moving on to a 12 point lead after heat 8, and remained that far in front at the end of the match.
Sandwell's young side never gave up the chase, but with the Aces blend of young and experience they were always a little too hot for the Lions. Lee Smith fell at the start of heat two but picked hiself up and finished third, before winning his next three and then finishing behind team mate Scott Millward in heat 17.
Scott pushed Mark Griffiths all the way in heat 7, but had to settled for second place to the Wednesfield man. Ricki Johnson who the day before won the Under 16 round of the British Youth and Junior meeting at Swindon, once again gave his all and finished with 14 points, and Matt Smith was once again in top form. But in Lee Aris, Mark Griffiths and Chris Jewkes the Aces had the power to drive forward all the time.
Midland League
Sandwell 85: Scott Millward 17, Lee Smith 17+1, Ricki Johnson 14+1 Matt Smith 12, Luke Brookes 9, Steve Brookes 8+2, Harley Grenvenor 5, Jack Rowley 3.
Wednesfield 95: Lee Aris 15, Mark Griffiths 15+1, Chris Jewkes 14+2, Roger Cox 13, Tony DeLeon 11+1, Steve Mullinder 11+2, Matt Haddock 10+2, Mick Aris 6+2
The rain which fell all afternoon continue as the second division match started, and the youngsters of both teams put a wonderful display, with several falls and lots of smiles, this match was ridden in a good hearted manner.
Division Two
Sandwell 68: Ricki Johnson 18+2, Jack Rowley 18, Luke Brookes 11+1 Josh Hill 9+1, Harley Grosvenor 8, Ryan Guest 4.
Wednesfield 62: Troy Allen 15+1, Jordan Holdcroft 14, Sam Parr 10+2 Reanna Bradley 7, Harry Everiss 6+1, Courtney Aris 5, Aeron O'Brien 5+1
---
Great Blakenham v Ipswich Eagles
Event: 17th July 2011
South-East Division 1
Ipswich moved back up in to second spot in the table with this good all-round performance against a compact Blakenham team, though missing Adam Peck. Ipswich would argue too that they also weren't at full strength with Pike and Solomon missing.
The match was well contested by two evenly matched teams, but it was the Ipswich team who seemed to have the greater depth in their lower order and all-round team
riding which was reflected in their scoring with the top six all scoring double figures. Great Blakenham got their noses in front in heat two after an exclusion to Stant, the run resulting in a 6-3 to the home team.
They held a three point lead to heat seven then Ipswich recorded a 6-4 win to close to one point before in heat nine Ipswich took the lead for the first time with Hill and Rumbold seeing off the Blakenham pairing 7-3 to open up a three point lead just before the break. It was after the break in heat eleven that Ipswich took control of the match when Mower and Chittock over come Ashford and Studd 7-3 to open the gap to seven points. A 6-4 and then a 7-3 in heats fifteen and sixteen saw the Ipswich team home for an impressive away win at their local rivals, final score 84 - 94.
A special mention to the young reserve Charlie Rumbold riding in his first South-East Division One match scoring 7+1 and Lewis Roberts who scored a fine 9+4.
Result
Great Blakenham 84: Will Page 10, Chris Osborne 15, James Studd 8, Jason Ashford 17, Will Jennings 5, Lewis Osborne 20, Colby Hack 4, Sam Turland 3, Sam Broom 2.

Ipswich Eagles 94: Richard Williamson 11, Joshua Brooke 13, Ashley Hill 13, Jordan Stant 13, Jamie Chittock 16, Leon Mower 12, Charlie Rumbold 7, Lewis Roberts 9.

Referee: Terry Ashford
---
Wosskow Brown British Youth and Junior League +12
Event: 17th July 2011
Venue: Swindon
With early heavy rain the racing started with puddles on the track but as cycle speedway riders do they just got on with the battle to become Wosskow Brown British Junior League Champions.
U14
There was great racing throughout the day starting with the under 14's with 29 riders having to contend with blustery conditions and driving heavy rain showers. The A final saw Ipswich pair Richard Fellgett and Dan Knight on maximum points With Aaron Smith (Poole) and Hellingley's Jess Moore. Smith drew gate one and a tape to flag victory with Fellgett coming through for second with Moore 3rd and Knight getting bundles out to finish fourth.
A Final: Smith 25pts., Fellgett 20, Moore 18, Knight 16.
B Final: Matt Hill (Ips) 14, Jacob Soper (Newport) 13, Kyle Holand (Sheffield) 12, Terry Gilbert- Rolfe (Ips) 11
C Final: Oliver Riley (Norwich) 9, Richard Hudson (Shef) 8, Jake Neighbour (Horspath) 7, Lee Kemp (Bretford)
D Final: Ethan Greenslade (East Newport) 4, Ethan Day Lewis (Southampton) 3, Jamie Whetton (East Park) 2, Matt Stockport (Stockport) 1
U16
The sun came out for the start of the under 16's and the track was in good shape for some cracking racing. Aaron Morgan looking in fine form booking his place in the A Final on a maximum. Count back was need to decide the other three with Poole teammate Matt Mildon and Newport's Olly Sidwick missed out. The final saw a tape exclusion for Morgan. With the favourite out of the equation a titanic battle commenced with Ricky Johnson (Sandwell) getting through for victory with Charlie Rumbold (Ips) second and Ali Lam 3rd (Stpt) .
A Final: Johnson 25pts., Rumbold 20, Lam 18, Morgan 16.
B Final: Sidwick 14, Ashley Hill (Ips) 13, Aiden Owen (Shef) 12, Mildon 11
C Final: Jack Harrold (Npt) 9, Jake Read (Stpt) 8, Jack Lush (Stpt) 7, Lee Clarke (Hor) 6,
D Final: Will Bristowe (Poo) 4, Oliver Buxton (Hethersett) 3, Troy Allen (Wednesfield) 2, Will Clarke (Ips) 1
U18 & Girls
Quite remarkably by the time the Under 18's and Girls took to the track it had dried to the extent that it could have done with watering.
As expected with the U18's getting their turn the racing was fast and furious. Leighton Glover thought he'd blown his chance of an A final with a 4th place in his qualifying races but squeezed in on 13pts also making the cut was Newport's Leigh Tippins and Sandwell duo Matt Smith and Scott Millward. This time it was Smith who got his marching orders for moving at the start.
A titanic battle with four absorbing laps unfolded before Poole favourite Glover took the chequered flag, with Tippings just holding onto 2nd with Millward 3rd .
A Final: Glover 25pts., Tippins 20, Millward 18, Smith 16.
B Final: Aaron Hughes (Ea Npt) 14, Joe Kemp (Bre) 13, Dan Bock (Ea Npt) 12, Jordan Stant (Ips) 11
C Final: Josh Robertson (Sou) 9, Corey B Jones (Ea Npt) 8, Joe Lewis (Npt) 7, Liam Webster (Shef) 6
D Final: Will Bristowe (Poo) 4, Oliver Buxton (Hethersett) 3, Troy Allen (Wednesfield) 2, Will Clarke (Ips) 1.
The best race of the day was served up in the very last race with four utterly absorbing laps with a photo finish as Collins, Hookway and Tomborska went across the line almost together. In the first running of the race Lauren Davies was excluded as the cause of the stoppage as all four riders were vying for places as they came out of the second bend on the first lap three of the four bit the dust with Davies deemed at the culprit which seemed a bit harsh. Tiffany Collins got the nod from the referee with Lauren Hookway 2nd and Sandra Tomborska 3rd.
A Final: Collins (Heth) 25pts., Hookway (Exeter) 20, Tomborska (Shef) 18, Davies (Leicester) 16.
B Final: Vicky Brown (Shef) 14, Danielee Riley (Nor) 13, Reanna Brindley (Wed) 12, Livvy Horsley (Hor) 11
C Final: Rebecca Davies (Npt) 9, Charley Jane Herbert (Hor) 8, Christina Mines (Poo) 7, Laura Watson (Shef) 6
D Final: Michaela Whetton (Ea Pk) 4, Caris Glover (Poo) 3, Georgina Healey (Stpt) 2, Courtney Aris (Wed) 1.
Team Result
POOLE 154 IPSWICH 128 SHEFFIELD 104 NEWPORT 90 WEDNESFIELD 76 STOCKPORT 54
---
Other Results
South West Division - Exeter v Southampton

Exeter 97: Dan Winchester 18Andy Yard 12 Sam Dart 12 Andy Collett 11 Lauren Hookway 9 Thomas Reed 9 Matt Bates 8
Southampton 21: Colin Wheeler 21 Hayden Chant 14 Josh Robertson 14 Alex Matthews 12 Pete Chant 11 Ethan Day Lewis 5 Ben Turner 3 Pat Cousins 2
South West League Division 1- Swindon v Newport

Swindon 84: Andy Hill 17 Sean Rudman 16 Danny Harper 15 Rob Hunt 14 Paul Matthews 9 David McKinvin 7 Dan Sinclair 3 Matthew Rayson 3
Newport 95: Mark Carmichael 18 Lee Tippins 14 Ollie Sidwick 14 Jack Harrold 14 Nicky Evans 12 Chris Davies 11 Joe Lewis 7 Dave Murphy 5
Norfolk U10 Individual Champioship at Harford Park
13th July 2011
1 Mason Parkins Norwich 16
2 Tyler Matthews Hethersett 15
3 Owen Wells Norwich 13
after race-off with
4 Ayrin Larter Hethersett 13
also qualified for East Anglian Final
5 Aaron Mills Norwich 12
6 Maddy Sussa Norwich 11
after race-off with
Amin Hamoudi Norwich 11

9 riders
Referee - Gary Colby
Wosskow Brown British Youth & Junior League National Rounds 1
16th July 2011
U12 Division at Horspath

KESGRAVE 226 POOLE 93 IPSWICH 90 EAST NEWPORT 74 SHEFFIELD 70 WEDNESFIELD 46

Grand Prix Series A Finals
U8 - 1 Lewis Brinkhoff KES 2 Oliver Wright KES 3 Thomas Whitwam AST 4 Dylan Hexley BIR
U10 - 1 Jack Chaplin IPS 2 Dan Price BRE 3 Owen Tidball EXE 4 Sean Bennett ENE
U12 - 1 Will Tidball EXE 2 Liam Davies LEI 3 Brandon Whetton EPA 4 George Horsley HOR

85 riders
Referees - Phil Davies, Robin Spicer, Mark Boaler
---