Suffolk duo, Josh Brooke and Pierce Bacon took home the top prize at Swindon on Saturday, in the second round of HSBC UK | Cycle Speedway Elite Grand Prix Series action.
In the elite men's class, it took two run offs to decide the final placings. Brooke and Lukasz Nowacki both finished on 18 points and the Great Blakenham rider made no mistake from inside grids.
Just behind the leaders, on 17 points, were Ben Mould, Paul Heard and Myke Grimes - the order in which they lined up on the grid - and finished the run off on the super fast Swindon circuit.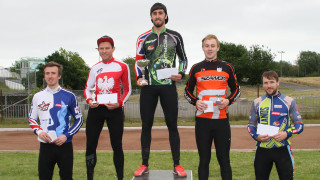 In the junior competition, Ipswich's Pierce Bacon claimed the top prize money and 25 points.
Debutant Adam Watson secured second after a run off with team mate and round one winner, Ed Morton.
Coventry's Cameron Gill claimed the fourth spot ahead of Poole's Fraser Garnett.
Ben Mould retains his lead in the overall standings of the elite men's class by nine points, leaving him in a strong position at the series' halfway stage.
Josh Brooke has jumped from ninth to second, bumping Lewis Osborne and Myke Grimes down to third and fourth respectively, with only three points separating the three riders.
Paul Heard climbs to fifth but with the top three scores from four rounds counting towards the overall standings, two more strong performances from Lukasz Nowacki will see him in with a shot of the title.
Round one winner in the junior competition, Ed Morton, is ahead by just two points over round two winner Pierce Bacon. European junior champion Brandon Whetton was absent from round two, but after securing second at East Park, he is still very much in the mix.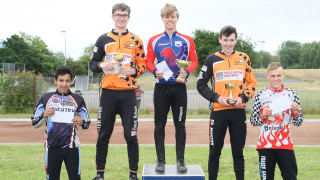 Whetton's team mate, Carl Parfitt, can forget about disappointment in round two if he can finish the last two rounds strongly.
Adam Watson made an impressive start to his campaign in Swindon and, like Whetton, he is just two high finishes away from contention.