---
21 to 27 November is UK Road Safety Week, part of a global network of Road Safety awareness programmes. In the UK, Road Safety Week is promoted by Brake, a charitable organisation which works to stop road deaths and provides help and support to the victims of road death and injury.
In the UK and elsewhere, cycling is on the up, with more and more riders taking to the roads making cycling safety an ever more critical issue. Plus, with dark morning and evening bike commutes now upon us, there's no better time for you to ensure that you're doing everything to stay safe on the roads.
Helmets

Now's a good time to make sure that your helmet is up to scratch, properly fitted and not damaged in any way.
How to fit your helmet correctly
1. Place the helmet on the head with the straps fastened under the chin.The front strap should be as vertical as possible and the rear strap should join the front strap just below the ears (forming a V just under the ears).
2. The helmet should fit comfortably on the head – if you try to move the helmet there should be very little movement.
3. If you can slide the helmet off the head either backwards or forwards then you need to tighten the straps.
Lights
Making sure that your lights are legal and up to scratch is one of the primary ways to keep yourself visible over the winter months. We've got a full breakdown of what you need to stay legal plus a round-up of the various types of bike lighting on the market here.
Hi Vis Clothing

Hi vis yellow and orange aren't the most fashionable colours in the world but they will make you stand out amid the traffic, especially in poor visibility. Combine hi vis with 'Scotchlite' reflective materials and you'll stay highly visible by day and night. There are many different hi vis products that you can choose from:
Jackets – a jacket gives you a large area of hi vis material to keep you conspicuous. Most manufacturers will have good quality waterproof and breathable hi vis jackets in their range.
Vests – If you're happy with your current jacket, all you need is a hi-vis vest over the top. They're cheap, readily available and slip into your rucksack ready to be thrown on over any clothing. They're ideal for use in various weather conditions (e.g. on warm days when a full jacket is overkill).
Rucksack covers – These are a great idea and can be used on their own or in conjunction with other hi-vis products. From the point of view of a motorist approaching from the rear, a normal rucksacks can cancel out the benefits of a hi vis jacket. A simple rucksack cover ensures that you're visible from behind and has the added benefit of waterproofing your pack.
Wrist/ankle slaps– Wrist/ankle slaps are great for adding a splash of hi vis to standard clothes. Used as a trouser clip, they provide a great visual cue to motorists – the up-and-down pedalling movement shouts 'cyclist' to approaching motorists. Used on the wrists, they're great for emphasising hand signals. You can apply them to your bike too.
Hi vis/Scotchlite tape – Self adhesive tape is available in rolls from various outlets, which you can attach to mudguards, frame tubes, helmets etc. Go crazy! The more visible the better.
Skills - Cycle Training
Aside from staying visible, getting some proper cycle training will equip you with the skills to deal with modern road conditions. At British Cycling, we deliver cycle training to both children and adults – we can even train you to be a cycle training expert. Find out more
Skills – Bike Maintenance
Keeping your bike fettled will go a long way to keeping you safe on the roads. Poor brakes, loose components and dodgy gears can make it difficult to control your bike. Before every ride, do the 'M Check'.
The M Check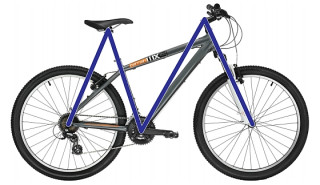 Start at the front of the bike at the bottom of the M. Make sure that your wheel nuts and bearings are tight. Move up the fork and check your brakes for frayed cables, misaligned or worn out brake blocks. Check your front wheel spins freely without buckles and check your tyres for excessive wear or damage. Moving on up, check that there's no play in your headset by turning the bars sideways and rocking the bars back and forth. Next check that your handlebars and stem are tight and straight.
Move down the M to the cranks and pedals – check that they spin freely and are not loose. Now move up to your saddle and check that it's tight and correctly adjusted. Move down the final part of the M, checking that the back tyre is in good condition and the wheel spins freely. Check the back brake in the same manner as the front, then finally check that the rear wheel is firmly attached. Done! After a bit of practice this should take you less than a minute.
Above: Here's a handy bike glossary in case you're not sure what's what. (click the image for a full-size version)
If you want to take things a step further, take one of our Bike Maintenance courses, led by former GB Team mechanic Peter 'Spike' Taylor. With beginner, intermediate and advanced workshops available there's something for everyone. More information
Members - Let us know what matters to you!
Take our Cycling Road Safety Survey! As membership of British Cycling grows, so does our influence in campaigning on behalf of cyclists in the UK! Having recently reached 40,000 members, we feel it's an ideal time to get you to tell us what matters to you with regards to your cycling and safety while out on your bike. Take the Survey.
Ride Membership - For just £24 per year, ride membership gives you class leading insurance and legal protection in the event on an incident on the roads, plus discounts from big cycling retailers like Wiggle and Halfords, allowing you to kit yourself out with essential safety gear for less. Find out more.
Find out more about Road Safety Week here - www.roadsafetyweek.org.uk