Meet Steve Breakwell from Worcester who sent in his commuter profile. Steve likes to keep his ride simple and his route traffic-lite and scenic. He certainly seems to have found a blissful way to get to work, compared with daily gridlock behind the wheel.
---
Name: Stephen Breakwell
Workplace: Worcester
Tell us about your commuting rig:
My main work bike is a Globe Roll2 single speed. Love the bike! Green with white wheels (Just ruined the look by fitting the Crud Roadracer 2 mudguards for the winter, but needs must!) Never goes wrong and bulletproof! I sometimes ride my Trek Fuel EX8 mountain bike if I go the canal route to work. I have recently bought a Focus Cayo road bike that I have used a couple of times for work in the summer.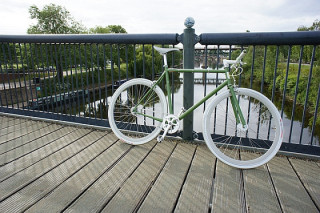 What's your commute like?
My commute is fairly flat and is 4.5 miles each way. I live at one end of Worcester and work at the other end so when I take the car I need to travel straight through the centre of city! Nightmare of stop start traffic! I'm very lucky on the bike because from my house to work I travel less than half a mile on the road! The rest is cycle paths going through the local park and through the Worcester Race Course down by the River Severn. It uses one cycle bridge over the river. Very scenic and hard to believe you're in a city! I only cross the main road once and that's over the old Worcester river bridge. Three miles of my commute is alongside the river! I have to negotiate the mass of Swans on the river side in the morning preening themselves on the pathways!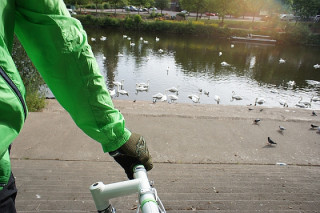 I also have the option of taking the canal towpaths that lead to the river. I need my mountain bike for that one as some of the paths are a little "unkept". Very nice ride all the same and it also means I travel even less on the main road as the off road path to the canal is just at the bottom of my road! A slight problem with that route is the paths are used by more people and get get a little stop start as they are narrow. It's also a longer route.
How many days a week do you commute by bike?
In the summer I try for five days. Having to re route my ride now on the way back home as it's too dark to ride the cycle paths by the river as they are not lit.
What do you enjoy the most about bike commuting?
The freedom! I can get to work a little quicker by car on the way to work but it can take me over 30 min to get home! By bike it takes me around 14 min!! Also it is a very scenic ride and leaves me de-stressed both riding to and from work. And there is the occasional time trial to see if I can beat my personal best on the way home using my cycle computer!
What's your least favourite thing about commuting by bike?
The cold, although it's not getting too bad yet! I have many more dislikes driving to work!!
What are your main reasons to commute by bike?
Saves petrol and money and it is obviously better for my fitness (although I am a part time fitness instructor including teaching indoor cycle classes, so not really needed for fitness). The main reason though is getting so fed up with sitting in stop go traffic in the car!! I also get home around 15min quicker by pushbike!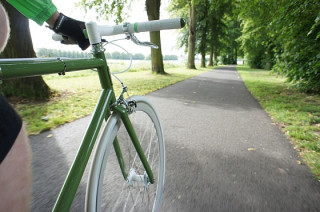 Have you got any funny or interesting bike commuting stories or experiences to share?
I saw a swan chasing a small dog once!! I also get to see the last race at the horse race meetings in the summer as I commute through the Worcester horse racing course and although it's closed race day, the steward lets me though! The funniest thing for me is the gloating to myself riding past the stationary traffic in the city centre over the river bridge!
What's your killer commuting tip?
Simple! Get out of the car and get on a bike! Also think about a single speed (fixed or free). Fantastic to ride, doesn't make you a lazy rider using gears when you don't need to and they are simple to maintain!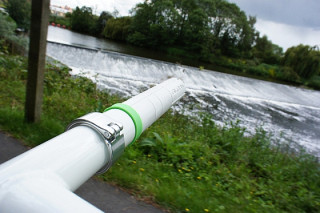 ---
Send us your Commuter Profile!
We want to know about your commuting experiences; how far you go, why you choose to ride, your killer tips and your commuter grumbles. Download, complete and email back your commuter profile to editor@britishcycling.org.uk and tell your story. Feel free to include a photograph/photographs of you and your trusty commuting bike!
Download Commuter Profile Form (Word Document)
---