London... An urban cycling photodocument
Words and Images: Hugo Gladstone
London is not the most obvious place to take to a bike. To the novice, countryside rambler or anyone not especially familiar with the Big Smoke, cycling its streets may seem quite nightmarish. It hustles and bustles like only a world city can. Traffic can be horrendous. And the attitude of some drivers is not much better. But despite this, London is currently going through a cycling boom. With each day that passes, more and more people are taking to cycling. With this there is a growing momentum of better cycling facilities, public awareness and a bicycling lifestyle culture.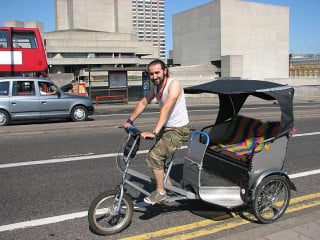 Above: Pedicabs are everywhere in central London. Certainly beats a black cab, especially on a day like this.
Forget the monopoly board; leave the bus routes for the buses and the iconic landmarks for the tourists. To best appreciate the city by bike, you're better off sticking to the back routes. For every one of London's clogged arteries (littered with their traffic lights, jams and unruly taxi manoeuvres) there are dozens and dozens of parallel and perpendicular back streets. It's amazing how quiet these can be.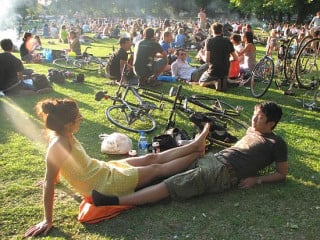 Above: Scenes like this only occur when cycling is totally integrated into the culture
Over the last few years, Transport for London has made a huge effort to improve life for cyclists. There is now a myriad of designated cycle routes all over the city comprising back streets, specific cycle lanes, canal towpaths and roads through parks. Public bike parking facilities have been springing up everywhere too. Many are just simple stands on street corners but an increasing number of more secure storage options can be found around train stations and commercial centres.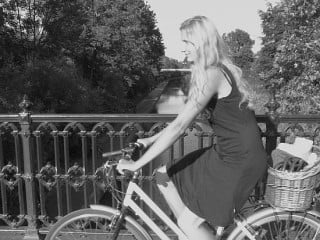 Above: Even in a city as chaotic as London, there are always avenues of urban escape
The advantages of cycling in London are manifold. As anyone who commutes by bike will argue, it is healthier, quicker, cheaper, friendlier on the environment, more pleasant and less unreliable than any public transport option. When the tube strikes recently hit, even greater numbers of employees discovered the merits of biking to and from their workplace.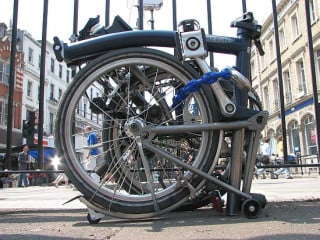 Above: Many a Londoner's commuting weapon of choice, the wonderful, iconic and ubiquitous Brompton
For many Londoners, though, cycles are not just a means of getting to the office. To rickshaw drivers in the West End, couriers in the Square Mile and sandwich delivery drivers in plush northern boroughs, cycles are their office.
Above: Cyclist's fuel stop, central London
For other Londoners, bikes mean leisure. Around Richmond Park or the outer circle of Regents Park there is almost a constant stream of racers and triathletes training for their chosen sport. Down on the South Bank, across the city's skate parks or bouncing on some unintended feature in the business districts, kids bust tricks on their BMXs. Head to the eastern reaches of the central city on a balmy summer evening and you can barely move for young trendies hanging out and about on their fixies.
Above left: You know you've reached critical mass when you've got cyclists queueing at traffic lights. Above right: On Westminster Bridge - two contrasting apparel choices.
Let's not pretend there aren't any negatives to cycling in London. White ghost bikes situated on busy junctions are a stark reminder of just how perilous meddling with urban traffic can be. With riders frequently jumping lights and taking to the pavement, there is also an element of lawlessness amongst some of the city's cyclists that grates with the frustrated motorist. And then there's all the remnants of dismembered frames and wheels locked to railings. You really have to be as security conscious as possible if parking your bike for any length of time.
Above: Urban flatland in the sunshine (left). The depressingly familiar sight of the taco-shaped wheel (right).
Despite these considerations, if you take care, London is a fantastic place to ride. In fact, it might well be argued that there's never been a better time for cyclist's in the city.
More information
London cyclists are in for a treat on Sept 20th as Skyride hits town. Last year around 60,000 hit the streets of Central London for a massive celebration of cycling. This year promises to be even bigger.
Links
Transport for London cycling pages
London Cycling Campaign
Mayor of London cycling pages
Resources