---
British Cycling has been successfully nominated in three categories at the UK Coaching Awards 2013, which is hosted by sports coach UK and will take place this December at the Montcalm Hotel in London.
The organisation has been shortlisted for the Governing Body of the Year Award, which recognises the innovative development of coaching qualifications, CPD and the delivery of coaching structures.
Over the past year, British Cycling's Coach Education team has experienced an unprecedented demand for its qualifications and CPD opportunities. Successes include the completion and delivery of a full coaching pathway at Level 2 across all of the six cycling disciplines, introduction of a 'Coaching Young Riders' workshop and the development of an online learning platform to support course delivery.
At a grassroots level, two British Cycling qualified coaches have also been nominated for their commitment to the growth of the sport at Go-Ride clubs.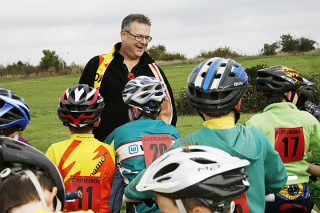 John Gunn is in the running for the Children's Coach of the Year Award, for his dedication to Hillingdon Slipstreamers. Within the past 12 months, the Go-Ride Clubmark club has grown to over 320 members and John is at the heart of everything the club does. Voted by the young people as their coach of the year, John not only strives to excel in his own coaching, but also works hard to ensure the club is welcoming to all, with members achieving their potential whether riding or volunteering.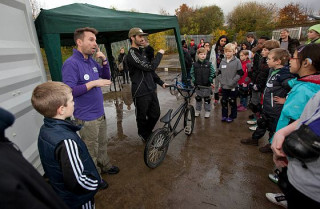 BMX coach, Paulo Cotrim, has already been recognised at the Pro-Active London Awards earlier this year, when he was named London Coach of the Year. He has now been shortlisted for the Community Coach of the Year Award at the UK Coaching Awards, due to his commitment to Go-Ride clubs, Hackney BMX and Tower Hamlets BMX. Last year, Paulo helped to provide opportunities for over 1,000 young people to get involved with cycling. Over and above the club sessions, Paulo has worked with a number of schools, whilst also providing opportunities for under-represented groups and hosting taster sessions for deaf and hard of hearing young people.
British Cycling's Director of Coaching, Education and Development, John Mills, said: "The Coaching and Education team has made real strides over the past year with the coaching pathway and making the move to online learning, so we're thrilled to be shortlisted for the NGB of the Year Award.
"Over the past 12 months, we've also seen a huge increase in the number of young people participating in cycling. The growth of the sport is supported by the network of volunteers at Go-Ride clubs across the country and it is fantastic to see the efforts of John Gunn and Paulo Cotrim recognised by sports coach UK."
For more information on the awards and a full list of nominees please click here.
For more information about the Coaching and Education department at British Cycling, please visit www.britishcycling.org.uk/coaching.