---
As a sport with a great tradition of success at Paralympic level, it's very important that coaches at all levels are able to identify and nurture talent, to ensure that in future Paralympic Games, the same level of success is achieved.

A learner on the Battle Back course puts their coaching skills to the test

It is essential that coaches are able to support riders of all abilities, both able-bodied and disabled. It is therefore important that they are trained from an early stage to develop their confidence to coach riders with a disability appropriately, helping to ensure a consistent approach to delivering positive and engaging sessions.

Tom Stanton, Para-Cycling Endurance Coach, said: "it is important to look beyond the disability and focus on what riders can do. That way you'll make better bike riders."

So what is British Cycling doing to achieve this?
The content of the most recent handbooks and eLearning modules have been written so that, where appropriate, they refer to key messages of inclusion. This means that coaches learn inclusion throughout the resources, rather than it being separated into a specific section. Training is also offered to tutors, so they can deliver the inclusive message within the learning programme, facilitate sessions to include disability inclusion activities and help coaches become more confident in adapting sessions to cater for all abilities.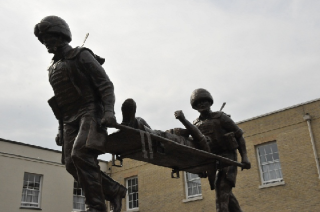 British Cycling are supporting Help for Heroes in helping affected service personnel

Helping heroes to battle back
Over the summer, you may have read the news that British Cycling Coaching and Education Tutors have recently delivered a Level 2 Certificate in Coaching Cycling course for members of staff for Help for Heroes who deliver the Battle Back programme. Battle Back is an MOD initiative funded by Help for Heroes, which uses Adaptive Sport and Adventurous Training to help seriously wounded Service personnel to lead active, independent and fulfilling lives.

Jon-Allan Butterworth, triple silver medallist at London 2012 Paralympic Games, said: "It is great to see British Cycling strengthening the skills of the instructors, who play such an important role in helping our heroes to recover."

To watch a video of the coaching sessions at Battle Back, click here.

Disability workshop
Great Britain Cycling Team Development coaches support both riders with a disability and non-disabled riders, and the Paralympic programme runs alongside the non-disabled programmes, with riders often training together.

To increase coaches' awareness of coaching riders with a disability, the new Disability Workshop demonstrates how sessions can be made inclusive for both riders with a disability and non-disabled riders. Modules include familiarisation with adaptive equipment, communicating with individuals with different needs and delivering inclusive coaching sessions.

We have recently announced the following dates for this workshop:

12 October 2013 – Stoke Mandeville, Aylesbury
23 November 2013 – National Cycling Centre, Manchester

For more information about the Coaching Riders with a Disability workshop, or to book on a course, please click here.