Following last year's sell out event, British Cycling's official supplier, TrainingPeaks, will be hosting another conference at the HSBC UK National Cycling Centre in Manchester.
The conference will take place Saturday 22 - Sunday 23 April 2017, giving coaches a unique opportunity to learn from experts in training software and analysis.
The university programme, which begins on Saturday morning, will help coaches to become more effective, analyse athlete data, engage and communicate with the athletes they coach and market their coaching business. Level 3 coaches who attend the conference will also become eligible for TrainingPeaks certification.
Attendees will get the chance to meet and learn from Joe Friel, the world famous elite endurance coach and author of The Cyclist's Training Bible and The Triathlete's Training Bible. Joe will focus on the wide range of topics below, as well as leveraging advance learning metrics to enhance athlete performance.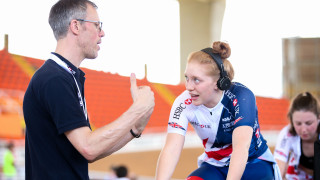 Timings
Saturday 22 April, 8.30am - 4pm
Sunday 23 April, 8.30am - 4pm
Topics will include
Getting your athletes to update data consistently
Setting up efficient workflows to save valuable time
How to use workout libraries
Best practices for planning and creating workouts
How to analyse power, heart rate, pace and other data
Using TSS, the Performance Management Chart and Dashboard Charts to inform your planning
Unlocking the 'hidden secrets' of TrainingPeaks
Advanced training metrics
WKO 4 desktop analysis software introduction and overview… and more!
Please register below for the TrainingPeaks University. A discount is available for Level 1, Level 2 and Level 3 British Cycling coaches as well as British Cycling members.
Ticket prices for the two-day conference
$299 early bird, $349 standard.
For exclusive member discounts, please contact commercial@britishcycling.org.uk
If you have any questions about the event, please contact coaching@britishcycling.org.uk
An evening with TrainingPeaks founder at British Cycling headquarters
Spend an evening with endurance coaching icon and Training Bible author Joe Friel and learn more about getting the most out of TrainingPeaks. Joining him is director of Education, Dave Schell on how TrainingPeaks can help you reach your goals this season.
Enjoy refreshments and food with fellow endurance athletes at the HSBC UK National Cycling Centre on Friday 21 April at 5:30pm.