One of the brightest young coaches in the sport, Jessie Ansell was nominated for the Heather Crouch Young Coach of the Year prize at the 2016 UK Coaching Awards, in recognition of her talent.
Ansell followed both her grandfather and father into the sport, and after racing with Go-Ride Club, Wolverhampton Wheelers, from an early age, began volunteering at 13. From there, she completed British Cycling's Cycling Award for Young Volunteers programme before gaining her first coaching badge at the age of 16.
Jessie explains: "I then completed my Level 2 qualification as soon as I turned 18. As injury was keeping me off the bike, I found that coaching was another way to remain in the sport, and I enjoyed it just as much as I did the racing!"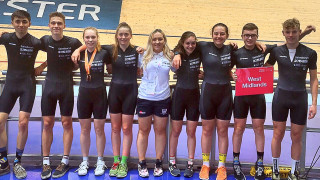 Jessie is now studying for a degree in Sports Coaching and Sports Therapy and Massage, while continuing to coach regularly in her home city of Wolverhampton.
"I'm trying to learn as much as I can and develop my knowledge to make myself a better coach. I hope to make coaching my full-time job and be able to help riders progress in their cycling careers.
"I'm extremely grateful to be nominated for this award. Most of my coaching work has been on a volunteer basis, so to be acknowledged is something I am humbled by. I feel honoured to be nominated, let alone to be chosen as a finalist.
"I would encourage anybody thinking of getting involved in coaching cycling to go ahead and do so. I have grown so much as an individual and learnt so much by getting involved in coaching. Helping others, whether it's just ensuring they have fun riding their bikes or helping them progress further by developing their skills is such a rewarding experience."