Go-Ride for Clubs
Over 280 clubs have now signed up to the Go-Ride principles as British Cycling looks to develop its plan to integrate club development and structured coaching activities for young people into a single, recognisable programme.
Put simply, Go-Ride clubs have something to offer everyone. They offer opportunities to ride, regardless of age and ability and opportunities to volunteer so there is something to suit all.
As well as ongoing support, resources and guidance, we actively assist clubs through the registration process of joining the Go-Ride programme which provides a template of best practice for clubs in all areas of regular activity.
Clubs must already meet certain standards before they can join, but along the way they continually work towards improving themselves and achieving best practice. Aside from better administration, Go-Ride helps clubs increase youth membership and acts as a beacon to show that clubs provide a supportive environment for young members.
What does your club gain from registering on the Go-Ride programme?
The first step is for your club to register on the Go-Ride programme for free. In return for registering on the Go-Ride programme your club will recieve the following for a period of 12 months:
— FREE Coaching Kitbag
— Safer, child-friendly, coaching and competition
— Regional Assistance from a network of Regional Development Managers and Go-Ride Coaches.
— Funding for volunteer training courses sourced regionally
— Assistance in sourcing external funding for club activities
— A set of publicity materials
— Up to 4 Free Silver Memberships for the following officials
- Go-Ride Club Contact
- Club Welfare Officer
- Two Fully Qualified Coaches
— Free Bronze Memberships for new British Cycling members
---
Go-Ride Clubmark Accreditation
British Cycling's Go-Ride programme incorporates Sport England's Clubmark Scheme, which is a cross-sport quality accreditation for clubs with junior sections. If your club registers as working towards Clubmark, the process will take a few months, but you will be supported every step of the way by our Regional Development Teams. You can find out more about Clubmark by clicking on the Go-Ride and Clubmark link on the left of the screen.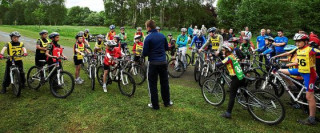 What does your club gain from becoming Go-Ride Clubmark Accredited?
— Publicity - club details on British Cycling Website and help with event promotion
— School Links - to encourage more youth and junior club members
— Ongoing Support - from a network of Regional Managers and Go-Ride Coaches
— Resources - including; a Coaching Kitbag, Go-Ride Gears books 1-4.
— Training - for coaches, club officials and other volunteers.
— Free Silver Membership - for up to seven nominated Club Officials.
What does your club need to register?
— British Cycling Affiliation
— A suitable area to run coaching sessions
— At least one Qualified British Cycling Coach
— A Club Contact willing to have his/her details published
— Club Welfare Officer (training to be provided by British Cycling).
What commitment does your club need to give?
— Deliver regular coaching activities through a British Cycling qualified coach
— Forge close links with local schools to encourage children
— Willingness to working towards Go-Ride Clubmark Accreditation.
---
What is the next step? For more information on how to become a Go-Ride club, please either contact your Regional Development Manager for more information or the office team direct:
Phone: 0161 274 2070
Email: go-ride@britishcycling.org.uk