Gt Yarmouth CC
Eastern | Norfolk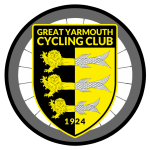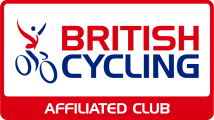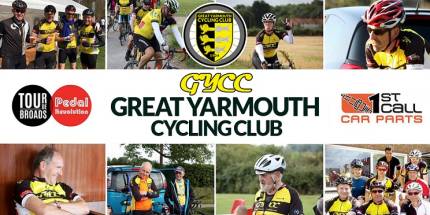 Club Information
Club type: Club
Affiliated: 31/12/2023
Affilation status: Active
Total club members: 170

About our club
A Friendly Inclusive club with regular rides and events for cyclists of all abilities.
We offer basic coaching for U14's and run regular rides for beginners, club and advanced cyclists throughout the week. With rides from 20 to 100+ miles..

We also partake in local and national sportives and events.

Over the summer months we run our own Time Trial series for people to come along and time themselves against the clock, we have a weekly 10mile club TT, as well as an open 10 on Good Friday, and also 25 and 30mile events over the season.
I am a member of this club
Buy Club Membership
How to join our club
Please choose from the following options to pay club subscriptions.
If you are not yet a member of this club we recommend that you contact the club using the details in the contact tab before you buy your subscription. Please note the £1.00 application fee is non-refundable.
Price
Age
Membership required?
Membership

Full Adult

£19.00
+£1.00 application fee
18 - 120
No British Cycling membership required
Buy membership

Full Adult

Age : 18 - 120

Price : £19.00 +£1.00 application fee

No British Cycling membership required

Adult Couple Membership

£29.00
+£1.00 application fee
18 - N/A
No British Cycling membership required
Buy membership

Adult Couple Membership

Age : 18 - N/A

Price : £29.00 +£1.00 application fee

No British Cycling membership required

Retired

£14.00
+£1.00 application fee
65 - 120
No British Cycling membership required
Buy membership

Retired

Age : 65 - 120

Price : £14.00 +£1.00 application fee

No British Cycling membership required

U18

£0.01
+£1.00 application fee
0 - 18
No British Cycling membership required
Buy membership

U18

Age : 0 - 18

Price : £0.01 +£1.00 application fee

No British Cycling membership required

Unemployed

£14.00
+£1.00 application fee
16 - 120
No British Cycling membership required
Buy membership

Unemployed

Age : 16 - 120

Price : £14.00 +£1.00 application fee

No British Cycling membership required

Second Claim

£14.00
+£1.00 application fee
0 - 120
No British Cycling membership required
Buy membership

Second Claim

Age : 0 - 120

Price : £14.00 +£1.00 application fee

No British Cycling membership required

Retired Couple

£24.00
+£1.00 application fee
65 - N/A
No British Cycling membership required
Buy membership

Retired Couple

Age : 65 - N/A

Price : £24.00 +£1.00 application fee

No British Cycling membership required

Second Claim Couple

£24.00
+£1.00 application fee
18 - N/A
No British Cycling membership required
Buy membership

Second Claim Couple

Age : 18 - N/A

Price : £24.00 +£1.00 application fee

No British Cycling membership required
Youths/Juniors (under 16s)
Adults (over 16)
Female Cyclists
Male Cyclists
Novice riders (rides up to 1hr)
Intermediate riders (1-3 hrs)
Advanced riders (rides 3hr+)
Racing cyclists
| Day | Time | Traffic Free |
| --- | --- | --- |
| Sunday | 08:30 | No |
| Tuesday | 18:30 | No |
| Saturday | 09:30 | No |