Sport England have this morning released the latest results from their Active Lives survey. Here's our response from British Cycling Policy Manager Nick Chamberlin.
"The decline in levels of cycling - for both leisure, sport and travel - in Sport England's latest Active Lives survey make for uneasy reading. Our ambition is to transform Britain into a great cycling nation, and while our innovative programmes – including the programme for women and city centre events – continue to go from strength to strength, it is becoming increasingly difficult to encourage those who don't currently cycle to get on a bike.
"Our insight tells us that perceptions of safety and access to pleasant, traffic-free spaces to ride remain the biggest deterrents preventing more people from cycling. While cycling remains statistically safe, traffic speed, close passing or potholes can often make riding a bike in Britain intimidating and unpleasant, especially for those who are trying it for the first time. The impact of this is clear in the numbers of people still making short, cyclable journeys by car – with all of the associated consequences for congestion, air quality and physical activity.
"While efforts are now being made to improve roads for people on bikes at city level, most notably in London and Manchester and more recently in Sheffield and Birmingham, national government in Westminster needs to redouble its efforts and investment to achieve significant and sustained change nationally.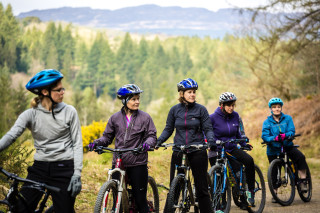 "Our Places to Ride facilities fund, supported by Sport England, will help to create a network of traffic-free cycling facilities across England in the coming years, and our lead partner HSBC UK – who this week launched their nationwide 'On Your Bike' campaign – are committed to helping the nation get back on their bikes.
"We are also continuing to work as part of the Walking and Cycling Alliance to make the case with the Department for Transport to rebalance transport spend in favour of cycling, and hope that today's figures will further strengthen the case as we head into the next Government Spending Review period.
"Finally, we are pleased to see a moderate spike in the level of indoor cycling, and we hope that last month's inaugural British Cycling Zwift eRacing Championships can help to further grow the profile of this discipline and encourage even more people to take part in the coming years."
Find out more about Active Lives Survey here.