A new report from Sustrans released today has highlighted how increasing cycling levels could prevent 34,000 life-threatening illnesses in seven major UK cities by 2040.
The projections in the report are based on increasing cycling levels in the chosen cities at the same rate which it has in London since the millennium – something which would equate to almost 250 million additional hours of physical activity.
While many studies on the impact of cycling have tended to focus on its impact on individual diseases, this report pulls together data on eight life-threatening conditions – Type 2 diabetes, heart disease, cardiovascular disease, dementia, depression, breast cancer, colon cancer and hip fracture – and estimates that achieving the stated increases in cycling levels could prevent 628 early deaths and save the NHS £319 million by 2040.
Responding to the report, British Cycling Policy Manager Nick Chamberlin said:
"Today's report from Sustrans is another fantastic showcase of the health, economic and societal benefits of increasing cycling, and the urgent need for a truly cross-departmental conversation on how we can bring this potential to life as we head into the next Government spending review period.
"By basing its projections on the increases which we have already seen in London, the report shows just how achievable this is, if the funding and political will can be found. To replicate this on a national scale we want to see cycling advocates across Whitehall, not just in transport but in the departments of health, the environment, business, local government and most of all the Treasury, and we are encouraged to see the green shoots of this thinking emerge in recent months."
"We are proud of the work which both ourselves and our fellow walking and cycling organisations are doing in the chosen cities to help them to achieve these goals, whether that's through our city centre HSBC UK Let's Ride events or our free led rides for women and beginners, and we look forward to supporting them on their journeys in the coming years."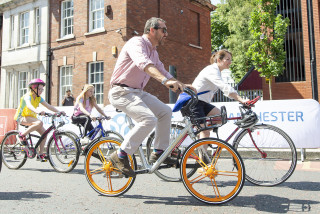 Greater Manchester is one of the seven cities referenced in the report, and one which has already started to invest more heavily in walking and cycling through its Bee Network plans.
Responding to the report, Greater Manchester's Cycling and Walking Commissioner Chris Boardman – who is also one of British Cycling's policy advisers – said:
"We have known for many years, thanks in large part to regular and succinct reports such as this, that cycling will only be taken up by those that don't ride now if we give them safe space to where they want to go.
"Local councils can only provide this essential environment when they have meaningful and sustained resources. We are doing our best in Greater Manchester to show what's possible and just how fast it can happen when these ingredients are present. Given all the available and accepted evidence, why government doesn't commit an ongoing portion of the transport budget to active travel is beyond me."
Nadia Kerr from Walk Ride Greater Manchester, a cycling and walking campaign group, said:
"The evidence is clear that money invested in walking and cycling infrastructure has the capacity not only to save the NHS vastly higher sums in the long term but to save significant numbers of lives. Instead of ploughing endless billions into our congested and polluted roads, the government should wake up and pledge the cash to build safer, nicer, less polluted routes for walking and cycling to get people out of their cars and on to two wheels or two feet."
Find out more about our free opportunities to get out on your bike in Birmingham, Bristol, Cardiff, Edinburgh, Greater Manchester, Newcastle and elsewhere at www.letsride.co.uk